Sunday, Oct. 5, 2003:
Nick to appear on Aaron's upcoming CD:
Source: backstreet news
Three of Aaron's songs that Nick guested on are on Aaron's upcoming greatest hits album, Not Too Young, Not Too Old: Most Requested Hits. The release date is November 4.
The cd comes with a bonus dvd, featuring "several" of Aaron's video clips. It's not yet known which ones, but since NTYNTO wasn't on the Oh, Aaron dvd, it seems like a good bet. (Yes, I own it. I know.) It'd also be nice to see She Wants Me, assuming it gets shot sometime soon.
The tracklisting of the cd is as follows, according to Tower Records:
towerrecords.com
1. Aaron's Party (Come Get It)
2. I Want Candy
3. That's How I Beat Shaq
4. Oh Aaron! - (featuring Nick Carter, No Secrets)
5. Not Too Young, Not Too Old - (featuring Nick Carter)
6. I'm All About You
7. Leave It Up To Me
8. Another Earthquake!
9. To All The Girls
10. Summertime - (featuring The Baha Men)
11. Do You Remember
12. America AO
13. She Wants Me - (featuring Nick Carter)
14. One Better
Aaron News!!!
Source: aaroncarter.com
Aaron Carter has more than proved himself a young star to be reckoned with. In only a few short years, Aaron has released four hugely successful albums and three longform home videos.

Now, just in time for the holidays, Jive Records is proud to present Aaron's fifth release, Most Requested Hits. This exciting package features 12 of Aaron's smashes, plus two brand new tracks. As another added bonus, there is a special DVD disc included, with a photo gallery, several Aaron video clips and an inside look at Aaron's home as seen on MTV "Cribs"!

This must-have collection of Aaron's most popular audio and video is bound to please his fans across the globe!

What you need to know about Aaron:-

*At the tender age of 15, Aaron Carter has already achieved: one multi-platinum and one platinum album, one platinum and one gold video, one gold single and gold and platinum albums in over a dozen countries.

*Over 5 million albums and videos sold.

*Aaron's debut album, which he recorded when he was ten, went gold in 12 countries and platinum in Japan.

*Aaron has received multiple awards including "Favorite Rising Star" at the 2001 Nickelodeon Kids' Choice Awards as well as "Best Male Artist" at the 2001 Fox Teen Choice Awards. *Aaron Carter: Incredible chart success! Aaron has reached the #1 slot on Billboard's Music Video Chart and #4 on Billboard's Top 200 Chart. His second album, Oh Aaron, debuted at #7 on the coveted Top 200.

*Aaron has had countless TV appearances including "Regis & Kelly,""Good Morning America," "The Today Show," "CBS Early Show," "The Tonight Show with Jay Leno," "Rosie," "Wayne Brady." He is currently scheduled to appear on "The Best Damned Sports Show Ever "and "The Tom Green Show" on MTV. *Aaron has been featured in Rolling Stone, People, USA Today, Teen People, YM, Teen Vogue, CosmoGirl, TV Guide and Disney Adventures (on the cover twice).

*Aaron has toured as guest opener for such superstars as the Backstreet Boys and Britney Spears and now headlines his very own sold-out tours.

*Aaron starred in Broadway's hit musical Seussical.

*Aaron's Disney channel special with Samantha Mumba was one of the station's Top 5 rated shows, ever. Aaron's Nickelodeon specials are among the highest-rated music shows in that channel's history.

*Aaron contributed three tracks to the hit soundtrack from the Oscar-nominated movie, Jimmy Neutron: Boy Genius.

*Aaron's In-Demand Pay-Per-View concert Oh Aaron - Live In Concert was a whopping success.

*Aaron Carter: Obviously, not your average teenager.
Sunday, Sept. 28, 2003:
Nick's VCR Alert!!!!
Source: MTV
Nick taped 3 episodes of the Wade Robson Project last month and they will air on September 29th, 30th and October 1st on MTV at 4pm and 11pm EST.
Tuesday, July 1, 2003
Nick Playing Atlantic City:
Source: Greg Raposo
Aug. 23, 2003: Radio Disney and The JCC Presents PopRock 2003 with Greg Raposo at the Trump Taj Mahal, Atlantic City , NJ. Performers subject to change and/or additions. Event organized by the Milton & Betty Katz o the Jewish Community Center of Atlantic County. TICKETS GO ON SALE SATURDAY, JUNE 28th. Here is the list of performers:
NICK CARTER
, PLAY, LMNT, ROSE FALCON, STEVIE BROCK and GREG RAPOSO.
Concert: 3:30 PM
Mark G. Etess Arena
Trump Taj Mahal Atlantic City, NJ
Ticket Prices: $19.75 & $35
For tickets call Ticketmaster at (800) 736-1420, stop by the JCC or the Trump Taj Mahal Box Office or online at
[ticketmaster.com]
One of these (Backstreet) Boy is doing his own thing...with Tommy Lee:
Source: MTV.com
Although the Backstreet Boys won't be delivering a new album anytime soon, four members of the boy band are preparing solo LPs making four of the five Boys their own man.
"It's important to point out that the group has not disbanded," said Brian Littrell's attorney, Jordan Keller. "They certainly intend to record as a group in the future, they just don't know when"
Of the four members venturing out on their own, two have had solo projects in the past Nick Carter released his first solo record, Now or Never, last year, while A.J. McLean had a nine-stop tour in 2000 under his nom de rock, "Johnny No Name," an alter ego who represented the pop star's rock side with covers of Stone Temple Pilots, Rage Against the Machine and Methods of Mayhem. Though no details are available yet on McLean's original work outside of the band, it's supposed to also be in a rock vein.
Carter seems to be going in a more rock direction as well he's working with none other than Tommy Lee, who will be assisting as a producer. Carter's already co-written several songs with a collaborator, according to his management.
Howie Dorough, who is going in a more Latin direction, is still in the writing/demo stage and has enlisted a slew of collaborators for his project, which will include songs in both English and Spanish. Among his writing and producing crew, Dorough will be working with Emilio Estefan, Steven Morales (Enrique Iglesias, Christina Aguilera), Gen Rubin (Paulina Rubio, Diana Ross) and Rudy Perez (José Feliciano, Jaci Velasquez), according to a rep for the band.
Finally, Littrell, who grew up singing in the church and at weddings and funerals, is taking a gospel cue for his outing. He's hoping to blend his experience in the pop world with a contemporary Christian sensibility. "There's a wide range in Christian music," Keller said. "From Michael W. Smith to choirs, there's a lot of room to work with."
Monday, June 16, 2003:
Review of Nick in Mexico City
Source: esmas.com
Mexico City - May 25, 2003 - American singer Nick Carter, member of the pop group Backstreet Boys, filled the Metropolitan Theater on Sunday during his solo concert that he did to promote his new album.
The youngest member once again showed, without the support of his bandmates, that he is able to please his thousands of followers, who met in the historical center for the concert, which sold out in its first week of sales.
At 7 pm, the blond came onstage in a white shirt and army pants, and greeted the fans with "What's up Mexico, Thank you for coming". He started his show with the songs "Girls in the USA" and "My Confession", from his new album Now or Never.
The public, which consisted of mostly girls, gave off the same unconditional love from the first few minutes, until the end of his show. During the hour and a half concert, the concertgoers applauded, sang, and flattered the singer, who promised (in Spanish) to have better communication with his Mexican fans.
Accompanied by 5 musicians, Carter voiced the different melodies that are included on his album, such as "I Got You", "Miss America", and "Who Needs the World", as well as his new world single "Do I Have to Cry for You".
During the whole show, flourescent lights illuminated the stage with shapes, such as hearts, fish, and circles. Groups of girls even held up posters that formed his name, and messages like "love" and "México".
At about 7:45, the poppy sound that started the concert turned into a more rockish sound, and the young 23 year old sipped a little water and spit it onto the fans, wetting the fans with it, and he also poured some on his head. He also played his electric guitar when he performed "Blow Your Mind", "Shout", and "Forever Rebel"
Later, in tribute to the pop group that introduced him to the musical scene, and the group that he has recently taken a break from, he performed the songs "Shape of My Heart" and "I Want It That Way" before his screaming, emotional fans, who listened more closely to this section than the parts where he sang his own music.
The fans showed their affection the same way as they did during his two shows in March, by throwing intimate articles of clothing at him. He thanked the fans who threw things and told them that they were very pretty and that he would keep them as something special. Despite the small stage, more than three thousand fans attended, and enjoyed Carter's version of "Everything I Do" by Bryan Adams, who Nick has admitted to admiring.
Finally, Nicholas Gene Cater, his full name, ended the show shortly after 8:30 after saying,, "I love you", he raised his arms in the air, and then left the stage.
Backstreet Boy Nick Carter Sets Feature Debut
Source: Reuters/Hollywood Reporter
CANNES (Hollywood Reporter) - Backstreet Boy Nick Carter is making the jump to the big screen, signing on to star in the "Sleepy Hollow"-inspired horror thriller "Hollow."
The indie project also will mark the feature debut of "8 Simple Rules for Dating My Teenage Daughter" star Kaley Cuoco.
Budgeted at less than $5 million, "Hollow" is described as a present-day retelling of "Sleepy Hollow" set in a small New England town where a group of high school seniors learn that they are the direct descendants of those responsible for a tragic event that begins to replay itself. No director is set for the film.
Carter, who said he has spent a lot of time searching for the right film part, plays a high school jock and captain of the football team in a role that he describes as a "hormonal brute with a bit of a 'tude."
"It couldn't have been more perfect for what I was looking to achieve in making the move into acting," Carter said. "I didn't want it to be something that felt fake or just not right. The role itself is perfect. It's not too much; it's just enough to show people that I can do it."
Rounding out the cast alongside Carter and Cuoco are Nick Turturro, Judge Reinhold, Kevin Zegers, Joseph Masiello, Eileen Brennan, Stacy Keach and Melissa Schuman, the latter having had a brush with pop fame as part of the girl group Dream.
Review of Nick's May 3rd Sunfest Concert
Source: Palm Beach Post
WEST PALM BEACH -- A couple of hours before talented, sensitive rock cutie John Mayer climbed the stairs to the Washington Mutual stage Saturday night, a SunFest attendee correctly predicted the hordes of screaming women who would be packed into the crowd like so much bare-midriffed fish.
....
If Friday, which featured several R&B and party acts, was SunFest's "Soul Train" day, Saturday was "Cute Boy" day. Hours before Mayer's show, new vocal group Voyces made an initially enthusiastic but quickly tired showing, while erstwhile Backstreet Boy and Florida native Nick Carter showcased his recent solo album, including Girls In The USA and Help Me.
Carter put his slightly hoarse voice to good use. He even played guitar along with his group of young, garage-band-looking players. It wasn't brilliant. But it was OK.
And he, like Mayer, is a natural performer.
Carter got the best response when he and the fellows in the band perched on stools and did acoustic versions of three Backstreet Boys songs, Shape of My Heart, Quit Playing Games (With My Heart) and I Want It That Way. The latter, a soft rock radio staple, had several middle-aged men in the crowd singing along.
Yes, we saw you.
Q&A: Nick Carter:
Source: Soundspike.com
The Backstreet Boys' Nick Carter released his solo debut on the same day as labelmate and rival boy-band hearthrob Justin Timberlake. While Timberlake's album, "Justified," has become a smash, Carter's "Now or Never" has struggled for notice.
The two CDs are strikingly different: Timberlake focused on R&B and pop, a sound that 'NSync's fans were quick to grasp. Carter's album, meanwhile, explored his rock side with a new band--and a lot less dancing.
Sticking with the behind-the-scenes formula that he used with the Backstreet Boys, Carter hired a team of producers and writers for "Now or Never"--Max Martin (Britney Spears, Backstreet Boys, Celine Dion), as well as The Matrix (Avril Lavigne), Steve Mac, Matthew Gerrard and Teddy Riley.
The first single from "Now or Never," the very un-Backstreet Boys-like "Help Me," was written by Gerrard and Michele Vice-Maslin. Meanwhile, Carter channels Def Leppard and Bon Jovi on songs like "Girls in the U.S.A."
Carter was on the road to support the album earlier this year, and said that his solo debut has been an educational experience.
"I've been able to open up my doors and learn new things and experience new horizons," he said. "Vocally, I've been able to become better. I have to carry a whole entire show now, one-and-a-half hours."
Carter recently took the time to talk to SoundSpike about his solo album and briefly hinted at the potential for a new Backstreet Boys album.
SoundSpike: What was your mindset when you were writing the songs for "Now or Never"? Did you find it difficult to write them by yourself?
I pretty much stayed true to who I am. I wrote a little bit on the road, a little in the studio. [Song writing is] not too hard. It's one of those things where I just gotta be in the mood and really just feel it. But there were some things that I needed to get off my chest and really experience. It's kind of like therapy.
Do you find it difficult to share your personal experiences with the public?
"I Stand for You" is a very personal song. I was just in this mode. I had a feeling where I just really wanted to let everything out. I'm not necessarily mad at certain things. I don't want to get too deep.
"Girls in the U.S.A." has a real '80s feel to it.
The thing about it was I wanted to write a song like Def Leppard's "Pour Some Sugar On Me." I can go through genres--'70s, '80s, '60s, '50s. I love music. I'm a music connoisseur. People ask me, "How do you know all these songs? Singing different songs with different eras?" I'm like, "I just grew up listening to music." I just felt like I wanted to put different types of music [on the album]. Certain people like to stick to their genres [and say], "Let's just do pop, R&B or rock." It's a very segmented world of music. That's not the era that I'm from. I loved all sorts of music. I feel like gelling those music genres together and trying to create something new. That's what America's all about. That's the melting pot.
Who are some of your influences?
First of all, I've always been very influenced by rock ballads and those big, early-'90s rock songs and the '70s big choruses that are just so memorable. Like Bon Jovi's "Livin' on a Prayer"--those things that everyone sings along to and they felt good singing it. Those songs aren't so complex. I think music is too complex these days. One thing I learned with the Backstreet Boys is to keep it very simplistic. Good hooks are very good. Sometimes, I hear those songs and, yeah, they're very creative, but they forget about the reason the whole pop era did so well. The Britneys, the Backstreet Boys, they did it. Simple hooks and very simplistic songs are easy for the audience to sing along to. That's where the comparisons to Bon Jovi and Def Leppard come from.
You made a guest appearance on "American Dreams" as the lead singer of the fictional group Jay and the Americans, and another TV appearance on "8 Simple Rules to Date My Teenage Daughter." What else do you have planned?
I definitely want to get into more acting. I'm really a singer, but I started off acting, too. I love to be able to experience new things and challenge myself. Then there's a new Backstreet Boys' album maybe, very possibly. I?m 90 percent sure.
Nick Rocks Wild Adventures Stage:
source: backstreet.net
Nick Carter is a rock musician at heart. For those of you yet to pick-up Carter's latest Jive Records release, Now or Never, you may be in for a surprise. The album holds a rock-pop sound that suits his style extremely well. On stage, there is no holding back. Nick's talent is showcased on stage and honestly; a CD recording of him serves no justice. No offense to the awesome producers in the industry. However, they only way to experience Nick Carter - is live. Even with Carter feeling "under the weather" during the performance, it was an unforgettable performance filled with passion. Nick's set included Girls in the USA, Stand for You, Heart Without a Home, Help Me, Shape of My Heart, and I Want It That Way - to name a few.
Nick is making quite a name for himself as a solo artist. Although his solo sound is not traditional of his Backstreet days, it is distinct and energetic.
Prediction: Nick Carter has grown-up before the eyes of the media. From a young boy to a man, he has overcome many obstacles both in the industry and in his personal life. There is not doubt that he will continue to succeed both as a member of the Backstreet Boys and as a solo artist.
Nick album news
Backstreet Boys star Nick Carter is recording his second solo album. The album is going to be released in December or early 2004. There's a song called 'I'm Not Like You' co-written by Nick, which he performed during his 'Now or Never' tour, which is reportedly part of his new album.

The Hollow (movie information)
The movie is about Ian Cranston, the great-great-grandson of Ichabod Crane, who returns to Sleepy Hollow unaware of his significant lineage. Ian?s return stirs the vengeful spirit of the Headless Horseman, and a slaughter ensues. Ian, the newcomer, must save his town by confronting the Horseman and settling an old score.
LATEST NEWS
Added many to the cast including, *sigh*, Backstreet Boy, Nick Carter, who plays a high school jock and captain of the football team.
--
This is a modern-day Sleepy Hollow story written by Hans (SAINT SINNER) Rodionoff, who has also worked on the upcoming TORTURED SOULS, WEREWOLF BY NIGHT and MAN THING projects. This film is being produced by Dan Levin, Platform Entertainment and Seed Productions, with creature and severed head FX provided by Gabe Bartalos. Shooting begins in May.
Erkiletian talked with Fango saying.. "Hans has written a script that is both contemporary and incredibly faithful to the original ?Legend of Sleepy Hollow? story. He and I both felt that while Tim Burton?s SLEEPY HOLLOW is a masterful film, it was more of a murder mystery than a scary ghost story. Our goal is to put the fright back into the tale and make a straight-up horror movie."
CAST

Nick Carter
Kaley Cuoco
Nick Turturro
Judge Reinhold
Kevin Zegers
Joseph Masiello
Eileen Brennan
Stacy Keach
Melissa Schuman

Hasbro Signs Pop Music Sensations and Siblings Nick and Aaron Carter to Launch New TWISTER MOVES Game in June 2003
EAST LONGMEADOW, Mass., May 20, 2003 (BUSINESS WIRE) --
Carters To Record Exclusive TWISTER MOVES Track and Host Major Music and Dance Event for Game Launch
Hasbro Inc. (NYSE: HAS) announced today that Jive Recording artists Aaron Carter and Nick Carter will lend their voices and moves to the launch of Milton Bradley's TWISTER MOVES(TM) game, a dance version of the classic TWISTER game to be launched this June. TWISTER MOVES is sure to get players on their feet and moving, as they follow the more than 100 dance commands called out by two recorded DJs on three CDs.
This exciting agreement between Hasbro Games, Jive Records and the Carters will result in an exclusive TWISTER MOVES-compatible music track featuring performances by Nick and Aaron Carter on a CD that will be packaged with the game. This will be only the third time that the siblings have performed on the same recording.
In addition to the recording, the Carters will be on hand to host a major TWISTER MOVES launch event this fall, featuring performances by the artists and a larger-than-life 'play-along'TWISTER MOVES session led by Nick and Aaron. The Carters will also be featured in television and print advertising for TWISTER MOVES.
'Nick and Aaron are thrilled to work together on the music track and launch for the TWISTER MOVES game,'said Julia Lipari, senior vice president, Special Projects / Marketing of JIVE Records. 'This is a unique opportunity for them to reach everyone from kids, who like the dance component of the new game, to adults, who remember the classic TWISTER game.'
'TWISTER MOVES is all about music and movement, and both Nick and Aaron Carter have the music and the moves that appeal to kids,'said Mark Stark, vice president of marketing Hasbro Games. 'We're excited to have Nick and Aaron on board to launch this terrific new game.'
The multi-tiered marketing partnership was developed and brokered by Alliance, an award-winning entertainment development and strategic alliance firm and partner company of Grey Global Group.
The TWISTER MOVES game comes complete with three CDs, each with 60 minutes of dance-style music, and mats. The DJs (a male who directs the left side and a female who directs the right) engage in comedic banter as they provide over 100 dance move directions to the players. First players listen for the dance sequence as called out by the DJs, then they follow the moves with their feet on the TWISTER MOVES mat. Miss a move and you're out!
To personalize the experience and increase the challenge, at the beginning of each CD, players are allowed to make up their own special moves to incorporate into the game. Each CD increases in challenge and at the end of each there are three to six Super Sessions, where players have to successfully complete four sets of moves together as one sequence.
TWISTER MOVES, for ages 8 and older, will be available in June 2003 wherever toys and games are sold for approximately $19.99
Nick Wants Recognition as a Rocker;
Source: reforma.com
(Nick) Wants recognition as a rocker
Nick Carter doesn't pretend to hide his time with the pop group the Backstreet Boys, but he wants to talk more of his career as a soloist, which he assured has had a wide acceptance in his facet/role as a "rocker".
"They already know me, but now I want them to know me another way. I am a rocker and I have always been because it's a part of me, (part of) my drive, and (part of) my what I like. I love it!" he said after his performance at the 2003 Acapulco Fest.
Carter played down the possibility that his fans would prefer that he perform pop and not rock.
"You think so? I don't thinks that's true, but we can ask. I, to put it simply, have received important tokens of affection everywhere I go, especially here.
"The Mexicans are a great audience, I can't say anything bad about them, and I only hope I don't let them down," he said.
Carter assured us he would always stay close to the Mexican public, with whom, he declared, he fell in love at first sight.
"I have encountered here a very special affection, because of which I will return as much as possible, hoping to see each time, everything wonderful here: the women , the beaches, and everything else," he said.
Of the Backstreet Boys, Carter admitted there was no plan to work together for the time being.
"I believe we will get back together some day, but for now there nothing is going on and I don't believe there will be anything soon."
He commented that he felt much enthusiam with his solo career, which doesn't mean he's estranged from the group that launched him to fame.
"If I go solo, it will be a sideline from being in the group, but for now I am a soloist and it is up to me that everything goes well. It's more complicated, but I these challenges enchant me because it's my moment to follow my own path" he noted.
Carter was satisfied with his performance on Saturday in the South Garden of the Acapulco Convention Center.
"I sensed a special vibe stepping on a stage, but today I am truly exhausted, it seems like I made two trips around the world," he concluded.

Friday, May 9, 2003:
Nick Carter Helps Himself:
Source: The Network Magazine
As a member of the Backstreet Boys, Nick Carter has performed in front of millions, on stages in every corner of the world. But there he was, alone, singing "The Star-Spangled Banner" preceding the debut Monday Night Football game between The New England Patriots and the Pittsburgh Steelers...and he was nervous?
"It was scary, he states. "Although we've played in front of some big people before and done some big shows, I was tripping out. This was different--because it was the Patriots, the world champions. It was on the same caliber as the Super Bowl itself. The national anthem is a hard song to sing. I was nervous in the beginning, but when I got through the middle of the song, I started to lighten up. I was just really excited and it was such a blast."
In a way, the performance in Foxboro also signifies Carter's attempt to go on his own--at least when not still being involved with "the Boys." Helping launch his forthcoming debut solo album, Now Or Never, is the just-released single, "Help Me." The song's guitar-based hook is certainly a departure from the signature teen-pop sound he and the Boys helped define.
Carter recently discussed his new venture and how he has settled into his celebrity status.
When did you first get the idea of doing something on your own?
Well, initially I didn't even really think that I could record an album by myself. We came back from the Black & Blue tour; it was over in Japan and everybody was taking some time off...a hiatus of sorts...and I wanted to just try stuff and go into the studio and see what could happen when it just came to writing and stuff like that. I went into the studio, wrote eight songs in about a week with some guys and after that it was like...bam!
I wrote one song called "Do I Have To Cry For You," which started floating around the record company. They came back to me and said, "We want to talk to you about an album." I was like, "What?" Then I thought to myself, "Hell, why not? I'll try it."
I've sung songs by myself with the Boys and everything, but I've never really written songs by myself or experienced anything like that. So about 37 songs later, everything was done and everything was great. I suddenly realized, "Oh my God, I've really got an album!" Everything just fell into place; it wasn't really forced at all. It just happened the way it was supposed to.
Since you're still with the Boys, were you worried at all about how they might react to what you were doing?
Of course. There's that initial part of being scared and wondering what everybody was going to say and how the Boys were going to react. I've been with the Boys since I was 12 years old. That's all I ever knew; I didn't know anything else and I wanted to try and experience something new.
They were kind of shocked at first and a little bit leery, because we've been doing the same thing for 10 years. Then they all cooled down and realized that this was something that means a lot to me--and is really personal. I wanted to be able to be by myself to find things out.
When you started putting your own songs together, did you make a conscious decision to do stuff that was a lot different than the Backstreet Boys?
The music is different in general; it's got a rock edge to it. I grew up listening to rock music; it's one of my favorite things. Although I love to sing all different types of music, rock was it for me, because I really get off on the crunch of the guitars and the raw feeling of the sound. When I got in [the studio], it all came out that way. It wasn't like I forced anything.
So the rest of the record has the guitar energy in "Help Me"?
The rest of the album is actually a little bit harder, but the difference is that it's pop music with a rock flavor. I was trying to use what I was doing before and add a new element to it.
Did any of the songs really surprise you in terms of taking big chances or experimenting?
The whole album...the whole recording process was an experiment. I just went in there and whatever came out, came out. When I listened to it afterwards, it was like, "Damn, this is really cool, because it's different." It doesn't sound like anything else out there.
Everybody is trying to do the same old things--all the same patterns, the whole dancing stuff and all that crap. I wanted to try something different...and not follow everyone else. Of course it's a hit-and-miss situation--sometimes you might miss and sometimes you might hit--but you have to take the chance. I'm really proud of what I've done and what I've accomplished when it comes to the experimental side.
Of the 37 songs, was it tough deciding which 12 made the album?
It was really tough. I had a lot of good material and I was really happy with what I did. The decision came down to [figuring out] what is going to be the best way to come out of the box. We chose what was going to be totally me.
If this album really takes off, you could be in a bit of a quandary when people start asking you about doing solo concerts and such. Have you considered that?
Well, when I went into the studio, I pictured myself writing songs that I could see myself performing on stage with a guitar, rockin' out and all. Of course I'd love to do that; that would be really cool. Who knows if it's going to take off or not? I'm just happy to be doing it. As long as I'm happy doing it and I'm making somebody happy out there, that's all that really matters.
Once you became really popular with the group, did you realize how tough it would be to go out on your own? Were you worried about being typecast as a boy band superstar?
Of course that's something that's going to always be there; people are gonna always look at that. The only thing that I can do is work my ass off, show people who I really am and have fun doing it. There are definitely people out there who are going to criticize and say stuff. I've come to the belief that [such criticism] doesn't matter. I've got to be happy with what I'm doing. It's gonna happen and I'm gonna be typecast. As long as I don't look for that stuff; you just [have to] let it go in one ear and right out of the other.
Have you gotten used to the fact that everything you do, be it public or private, is fodder for the tabloids?
A little bit. I've had some stuff come out that really looks bad in other people's eyes. The funny thing is, though, if I wasn't in this group I'd probably be doing the same things anyway. There are people my age--not in the spotlight--who are doing the same things. That's just a part of life...things happen. People have to realize that the only difference between me and any 23-year-old is that I'll do the same things in the spotlight.
Is becoming "multi-Platinum" successful as important as just being able to express yourself individually?
I'm just happy to express myself individually. If it happens and people like really dig it, that's great, but that's not the reason why I did it. My motivation now is that I love to create music and just have fun doing it. If you're not having fun doing something in life, then why the hell are you doing it in the first place?
Your record came out at around the same time as the new Justin Timberlake. There's always been this "media rivalry" between the Backstreet Boys and 'N Sync. Does that come into play at all?
The rivalry stuff is out the window. I don't care about it any more. That stuff can just ruin what you're doin' in the first place. We're entertainers and we're here to make other people happy with our music. How can you make other people happy when you're worrying about all that stuff?
There are going to be people who like him and there are going to be people who like me. I just want to be happy with what I'm doing and not get caught up in the drama. Dude, he might sell hundreds of thousands more records than me. I don't care; it doesn't matter to me. I'm really just having fun.
So what does your immediate future look like?
I'm making the rounds. I'll be doing some radio shows and stuff later on in the year. I'm going over to Europe for four weeks, then Asia. I'm going everywhere, man.
I'll be gettin' down with the people who got us to this point in the first place. A lot of radio people deserve respect; I want to show them some love for all these years--especially with the Backstreet Boys. It's been a while since we've been there. It's going to be a conscious effort to give back to those people and show them a little love. They mean a lot to what I do.
One last thing: Now that you've got a solo album, do you look at what your brother, Aaron Carter, has been doing in a different light, knowing what he's gone through as a solo artist?
Oh, yeah. My brother has been busting his ass for a long time--and he's a little kid. He still doesn't get respect from the industry for doing what he's doing at his age. Hopefully that will change eventually. He's a great performer and he's a really talented kid. The fact is, I love my brother; he really inspires me...and I inspire him. That's what the whole family does
Everything's Ready For the Big Musical Event at Acapulco Fest 2003
Source: El Heraldo
Ready to begin the big musical event in the heavenly port (guerrense?), where it was announced that the Acapulco Fest 2003 would be, without doubt, the best of all the festivals, the presenters again said that the stars would be national and international celebrities.
The team, of course that grew to names as Nick Carter, Alex Lora, Jon Dried, Alejandro Fernández, Dew Dúrcal, Yuri, Francisco Lawns and Lupita D' Alessio, and names such as Paquita from the 'Hood, Marco Antonio Muñiz, Cañaveral, Boby Pulido, Limit, Tucanes of Tijuana, Hurricanes of the North, Bacilli, Tabuca Coffee, Kabah, and The Great Silence from among others.
All this was announced at the press conference offered by event producers Luis de Llano Macedo and Marco Flavio Cruz, accompanied by the state government's Secretary of Tourism, Guadalupe Gómez Maganda, who was also accompanied by de Carmen Arméndariz y Reynaldo López, producers of the shows "Big Musical and "Today", respectively.
"Big Musical" and "Today" will be taped on Sunday from the heavenly port of Acapulco, and will also, besides opening the festival, will cover the closing (of the festival) on Sunday May 25, such that with "Today's" 3 hours of programming, will be broadcast all week, from Monday thru Friday, on the "(TV) Channel of the Stars"
The big festival of Acapulco Fest 2003 returns (this year) to be presented on 3 stages; besides the Southern Garden of the International Convention Center, it will also use the Teotihuacan Hall, and the new stage at Tamarind Beach. "I can say that many ideas are evolving and new concepts and possibilities are being expanded that can be held in the week of festivities.
Luis de Llano Macedo said he was leaving open the possibility of surprises guest singers. "It is clear that we want celebrities such as Ricky Martin, who will be in Mexico promoting his new CD, and it would be wonderful (sensational) to have Luis Miguel, even though he doesn't have a new CD.
The producer gave assurances and named a list of 59 groups and singers, the majority Mexican, with great international recognition popular appeal. All the musical festival will be transmitted satellite way to more than 30 million homes in the world, including Mexico, Latin America, United States, Africa, Asia and Europe.
"This festival without a doubt will be the best of all we've done", said Marco Flavio Cruz, recognizing that he has already put together mor than 10 years' worth of such events in the lovely port of Acapulco.
The stellar concerts will be directed by Arath de la Torre, Alexis Ayala, Gloria Calzada, Mónica Noguera y Rafael Mercandante. Carlos Eduardo Rico, Memo Ríos, Miguel Galván, Adrián Uribe, "El Costeño" y Teo González will be in charge of hospitality.

New Information About Nick's Movie
(DLS) - On the official website of Melissa Schuman, the former member of Bad Boy Records' 'Dream', she comments on her upcoming role in the independent film, 'The Hollow.'

Schuman explains that they are still casting for the movie, but two
stars expected to be in the film are Brittany Snow, who plays Meg
Pryor in the NBC hit 'American Dreams', as well as Nick Carter of
Backstreet Boys fame.

Schuman will play the role of 'Amber' and she has dubbed the movie as a "modern version of The Sleepy Hollow."



Sunday, April 20, 2003:
Nick's Upcoming Appearances:
4/25-4/27: MIAMI GRAND PRIX SUPERBOAT RACE, Miami, Florida
5/2 : HOUSE OF BLUES, Orlando, Florida
5/3 : SUNFEST, West Palm Beach, Florida
5/4 : THE MASQURADE, Tampa, Florida
5/23 : ACOFEST, Acopulco, Mexico
5/25 : TEATRO METROPOLITAN, Mexico City, Mexico
Nick Carter's El Diablo Racing:
Nick Carter's El Diablo Racing is scheduled to make their superboat debut at the MIAMI GRAND PRIX, April 25-27, in Miami, Florida. For more information, log on to the official web site of Superboat Racing at
www.superboat.com
Wednesday, April 9, 2003:
Nick Carter's El Diablo Racing
"NICK CARTER'S EL DIABLO RACING," SIGNS ON TO RACE WITH THE BIGGEST, FASTEST BOATSTM IN THE WORLD
MARATHON, Fla. - April 7, 2003 - "Nick Carter's El Diablo Racing Team" moves up to the Superboat Unlimited class of racing with Super Boat International Productions, Inc. International singing star of the famous "Backstreet Boys" Nick Carter, signed a letter of intent for his team to race in the 2003 Super Boat International (SBIP) boat racing circuit.
The Miami Super Boat Grand Prix scheduled to take place April 25-27, 2003, will mark the debut of the "Nick Carter's El Diablo Racing" in the Superboat Unlimited class. Todd Wharton one of the top throttlemen in the business will be on the throttles and Marc LaFleur, experienced driver will be on the wheel in the cockpit. "I'm very excited to be moving up, running with the BIGGEST, FASTEST BOATSTM in the World and have a team that can take the National and World Championships" said Carter.
"Nick Carter's El Diablo Racing" will race a 42' Fountain, Cat-hull, housing twin 1500 hp engines and will race in the Superboat Unlimited Class were the boats are capable of speeds in excess of 170 mph. "We are delighted to have Nick Carter El Diablo Racing team racing with SBIP this season. Nick and Aaron will attend at pre-announced race sites and also staging concerts, it is going to be a great year for our fans and the Carter's," said John Carbonell, President of SBI.
Nick follows in a long tradition of SBI celebrity drivers. Don Johnson, Kurt Russell, Chuck Norris and Jason Priestley have all been racers in the BIGGEST, FASTEST BOATSTM in the world.
Be on the look out for Nick Carter's new release "Now or Never"!
The 2003 SBI racing schedule will continue at Ft. Myers, 5/16-18; Marathon, 6/13-15; Sarasota, 7/4-6; Washington, NC, 8/1-3; New York, 9/5-7; Miami, 9/19-21; Deerfield Beach 11/1-9.
For more information or SBI sponsorship opportunities visit www.superboat.com or call (305) 296-6166.
*** I will be posting all the latest news from "El Diablo Racing" in the Nick Carter Racing section of this site in the near future.***
New Tour Date Announced
Nick is scheduled to perform at the Orlando House of Blues on May 2 . Tickets go on sale this weekend. For more info go to www.ticketmaster.com


Sunday, March 30, 2003:
***A NOTE FROM THE WEBMISTRESS. THE FOLLOWING IS ONE OF THE FEW TIMES I WILL PASS ALONG BSB GROUP NEWS. THIS SITE WAS CREATED FOR NICK AND HIS FANS. HOWEVER, SINCE NICK IS STILL A MEMBER OF BACKSTREET BOYS, I FELT THE NEED TO PASS THESE ARTICLES ALONG. KTBPA.***
Backstreet Boys Go On Self-Imposed Hiatus
Source: ChartAttack.com
It isnt exactly over, but the future of The Backstreet Boys isnt looking good. The boy band has announced that they wont be going ahead with plans to record a new album. Theyre not breaking up, but theyre not exactly staying together either.
Kevin, Brian, A.J., Howie and Nick had plans to go into the studio this month to begin recording the long-awaited follow-up to 2000s Black And Blue. Howie Dorough had even told Billboard only a few weeks about that he had written almost 30 songs that he wanted to try out for the album. It looks like Howie shouldnt hold his though.
"As a group, we have decided not to record our next album at this time," the Boys collectively said in a statement. "We are not breaking up, but individually we are currently at different places in our lives and our hearts and minds are focused in other areas. All of us are getting along great and are supporting each other in our individual endeavors.
"When the timing is right, we will record another Backstreet Boys album. We would like to thank our fans for their continued support and love throughout our career."
When will Backstreet be back? Well, with the current pop music climate favouring "real" artists like Avril Lavigne and John Mayer over pre-fab pretty-boys like BSB, were guessing that theyll take their time. And, as the statement said, many of the Boys have already effectively moved on. Little Nicky Carter has already started a semi-successful solo career and the senior Backstreet Boy, Kevin Richardson, has just finished a stint on Broadway in the stage version of Chicago.
Backstreet Movie Career As Group Ends?
Source: Fox News
Yesterday, the Backstreet Boys surrendered. Our long national suffering is over. 'N Sync has outlasted their greatest rival boy band. Backstreet is dead.
But wait, not so fast. While it is true that the Orlando group has announced there will be no new albums, at least one B-Boy wants to try to have a career. Nick Carter, otherwise known as 'the blonde one', may try to get himself into the teen movie pool. Over the weekend at least one project was mentioned with his name in it attached to rising cutie Hilary Duff.
This would put Carter into the Freddie Prinze, Jr. category (you remember him) following in the footsteps of Tab Hunter, Jan Michael Vincent and Christopher Atkins. You can almost imagine an agent or manager dreaming of quick profits over the next three years. Then, of course, there will be I'm a Celebrity! Get Me Out of Here Part 3.
Even as Backstreet collapses, one member -- Kevin Richardson -- has been moonlighting in Chicago on Broadway. One of the others, either Howie or A.J., was recently featured in US Weekly for having cheated on his fiancée. The fifth Boy, Brian Littrell, the one who could sing, is thinking of going out on his own.
It's not the way the Beatles ended, is it? You may remember how Backstreet Boys and 'N Sync were once compared to them during their frantic heyday. Meanwhile, Backstreet are suing Jive Records, their label, for the second time in their short career. They won the first suit. As one Jive insider quipped to me at the Grammy's: "They've figured they can make more money in lawsuits than in recording."
Backstreet Boy's CD Derailed
Source: Rolling Stones
Recording future in doubt for pop superstars
The Backstreet Boys insist they aren't splitting, but still can't say when they'll follow up 2000's Black and Blue. In a new statement, the Boys announced their decision to defer work on a new album, citing diverging personal priorities. "Individually we are currently at different places in our lives," the statement reads, "and our hearts and minds are focused in other areas. When the timing is right, we'll record another Backstreet Boys album." Delays and frustration have marked the band's effort to record a fourth album. They were initially scheduled to deliver the set to Jive in April 2002. After that didn't happen, the band sued Jive parent company Zomba for $75 million, alleging the label invoked contractual loopholes to stymie their efforts to successfully complete the set.
The Boys' contract requires that all five members contribute to the making of each Backstreet Boys album and that the label approve all songs and producers before material for an "album" can be submitted. They claim that Jive refused to participate in that decision-making process and prevented Nick Carter from working on the BSB record by demanding that his solo set, Now or Never, take precedence.
At the time of the November lawsuit, the band said they were writing material together for a new album and would support it on a summer world tour, neither of which seem likely now.
Though it was certified eight times platinum (8 million copies shipped), Black and Blue was not the sales phenomena that its predecessors were. The Backstreet Boys' 1996 self-titled debut is fourteen times platinum, and 1999's Millennium is thirteen times platinum.
Representatives from Jive, the Backstreet Boys' label, were not available for comment at press time.
Backstreet's Not Back - New Boys Album On Hold
Source: MTV
After meeting to figure out what their next move would be, the Backstreet Boys have put on hold their plans to be Backstreet Boys once again.
"As a group, we have decided not to record our next album at this time," the bandmembers said in a statement released late Wednesday. "We are not breaking up, but individually we are currently at different places in our lives, and our hearts and minds are focused in other areas. All of us are getting along great and are supporting each other in our individual endeavors."
What those endeavors are remains unclear, as Nick Carter has wrapped his solo tour and Kevin Richardson has finished his run on Broadway in the stage version of "Chicago."
The band had previously planned to go back into the studio in late March to record the follow-up to 2000s "Black & Blue," and the Boys had expressed interest in working with producers such as Glen Ballard, Jermaine Dupri and Babyface (see "Backstreet Boys Seek Jermaine Dupri, Glen Ballard For Next LP").
Last week Richardson said the band had decided to go with different producers, but he insisted that he and his bandmates were anxious to get back in the studio (see "Backstreet's Back: Group Plotting Follow-Up To Black & Blue").
"When the timing is right, we will record another Backstreet Boys album," Wednesday's statement said. "We would like to thank our fans for their continued support and love throughout our career."
The bands management had no comment beyond the written statement, and the group's label, Jive, was unavailable for comment.
Backstreet Boys To Call It Quits?
Source: San Fransisco Chronicle
The Backstreet Boys have finally reached the end of the road -- their upcoming album is set to be their last.
Group member Howie Dorough recently announced that he and his bandmates would be releasing a new album, which they hope will hit shelves this autumn.
Dorough said, "I've done a lot of writing in the past year. I've written about 12 songs individually and about 15 songs group-wise. I think we'll get together again in March, after Kevin (Richardson) gets done with 'Chicago' and Nick (Carter) gets done with his solo tour. I'm hoping to have the new album out at least by September, but I'd like it to be by the summer."
But a source tells American magazine Us Weekly, "The group is going back into the studio to work on the last Backstreet Boys album."
The source adds, "It will be followed by what might be a farewell tour."
Sunday, March 23, 2003
Nick's Upcoming Appearances
4/5 - Wild Adventure's - Valdosta, GA
4/11 - The Anderson Civic Center - Anderson, SC
5/3 - Sunfest - West Palm Beach, FL
Nick And Aaron on Sesame Street
Source: Billboard.com
The Backstreet Boys' Nick Carter, his singing sibling Aaron, and Sheryl Crow are among the celebrities who visit "Sesame Street" during the PBS children's show's upcoming season. The Carter brothers will be featured through three episodes that will deal with the introduction of a new sibling into a family, as character Baby Bear's family prepares to welcome his sister Curly. First scheduled airdate is reported for Monday, May 12. Check your local PBS stations.
Nick Carter Uneasy Without His Boys
Source: calendarlive.com
The Backstreet Boys' Nick Carter shrank from larger-than-life to actual size on Thursday, bringing his own band to the House of Blues for a solo turn that uneasily adapted teen pop's stadium-ready conventions to a more intimate setting but didn't always emphasize his strengths. Now that the bloom is off the teen-pop rose, the 23-year-old blond heartthrob needed a fresh angle to keep an audience whose interest has dwindled as it's matured. Rather than funking it up like 'N Sync's Justin Timberlake, or sexing it up like Christina Aguilera, Carter took the logical next step for his innocently impish boy-next-door persona and cultivated a slicker rock sound on his 2002 debut, "Now or Never." Thus, the 90-minute set mostly evoked '80s-era Bon Jovi, with a dash of Limp Bizkit lite and, of course, the heart-fluttering ballads that are Carter's forte. Backed by a generic ensemble of two guitars, bass, drums and keyboards, he genuinely worked hard, eliciting squeals whenever he busted a Backstreet-style dance move, noodled on guitar or dumped water on himself and fans at the front. Still, his grand gestures were an embarrassing-to-uneasy fit in the nightclub environment, and such up-tempo songs as "Girls in the USA" were merely cotton-candy anthems. The ballads were better suited to his sweet tenor and sincere demeanor. Highlights included a subdued take on his solo hit "Do I Have to Cry for You?," along with an "unplugged" segment featuring such hit Backstreet ballads as "Quit Playing Games With My Heart)," "I Want It That Way" and "Shape of My Heart." You can take the boy out of Backstreet, but you can't take the Backstreet out of the boy.
Nick To Perform At A Fundraiser Benefiting Children's Rights
Source: Children Uniting Nations
Children Uniting Nations, Rock the Vote and The Creative Coalition Team To Host Oscar Night Party Benefiting Children's Rights
A Star-Studded Fundraiser to Benefit Children Uniting Nations at the World Renowned House of Blues-Sunset Strip
LOS ANGELES, March 11 /PRNewswire/ -- A powerhouse teaming of three of the entertainment industry's most powerful celebrity action committees -- Children Uniting Nations, The Creative Coalition and Rock the Vote -- promises to add a new must-attend event to Oscar Night's A-List party lineup. The theme and benefit of the event will be "Human Rights for Children." The hosts for the evening are Alec Baldwin, Sela Ward, Jane Seymour, N'Sync's J.C. Chasez, Esai Morales and Olympic gold medalists Lenny Krayzelberg and Tara Lipinski.
The Academy Awards(R) Celebration Dinner begins at 5 p.m. Sunday, March 23 at the House of Blues, 8430 W. Sunset Boulevard.
Los Angeles Magazine, American Express and the New York Daily News will sponsor the fundraiser for the protection of at-risk children. The three organizations will co-host the party at the House of Blues, with the attendance expected to include many top celebrities and policy makers, and performances by major acts. Performers already scheduled include Nick Carter of the Grammy Nominated Backstreet Boys, Jeff Goldblum and Carol Duboc.
All proceeds from the event will benefit Children Uniting Nations, which is committed to providing relationship based and academic mentors for every parentless child. Founded by Daphna Edwards Ziman, one of Los Angeles' leading advocates for children's rights, Children Uniting Nations is an international charity based in Beverly Hills, California.
"This is not only a fun-filled event, but a party with a purpose to benefit our most valuable resource, our children. Every child deserves the right to shelter, health, education and a permanent family, explains Daphna Edwards Ziman. "The CUN programs help facilitate resources where future generations can enjoy a heightened sense of human rights and dignity."
The CUN Academy Awards(R) Celebration Dinner begins at 5:00 p.m. with a silent and live auction. Dinner will be served at 6:00 p.m. back dropped by the 75th Annual Academy Awards. Immediately after the telecast, cocktails and hors d'oeuvres will be served at the exciting celebrity filled after-party with electrifying musical performances and dancing.
Thursday, March 6, 2003
Pontiac MI Review- Nick Carter
Source: The Oakland Press
Laura Weber pulls a much-cherished packet of photos from a backpack. "This is me and Nick in Belgium," she said.
She was hoping to get another photo - of her and Nick in Pontiac.
Nick Carter, the youngest member of the multiplatinum Backstreet Boys pop group, performed Thursday night at Clutch Cargo's in Pontiac. It was a much more intimate venue than arenas such as the Silverdome or The Palace of Auburn Hills, where the full BSB contingent has rocked Oakland County before.
And, to judge by the 35 to 40 fans waiting in 18-degree temperatures outside the nightclub at noon Thursday, the night could almost be billed as "Nick Carter and Friends."
Because it seemed that nearly everyone in line had a snapshot of themselves with Nick - in Germany, Spain, Florida or Milwaukee.
Weber, 19, and five of her friends traveled from Europe on Wednesday to Pontiac for the concert. She's from the Netherlands, as are Debby Yoey, 18, and Lobke von Eijk, 19.
Tinne Roelens, 19, and Caroline DePauw, 23, are from Belgium, and Nelly Feliz, 20, is from Spain. They all met at a Backstreet Boys concert in Belgium and keep in touch through e-mail. They found out about the Pontiac date through a TicketMaster Web site.
"We're going to two concerts," said Weber. "We're going to this one and the one in Milwaukee."
Members of the fan group arrived at Detroit Metropolitan Airport on Wednesday. They got to Pontiac by 9 a.m. and were probably going to be standing in line until 7 p.m.
"We really like the music," Weber said. "We're kind of addicted to it."
"They're just so great," DePauw said.
Fans of the Backstreet Boys go to great lengths to see both the group and its component parts. Tricia Snell, 26, and Lezlie Baker, 36, of Davenport, Iowa, traveled more than seven hours to huddle on the sidewalk outside Clutch Cargo's, wrapped in blankets and sleeping bags.
"This is a local trip," said Snell. "I was in New York last week"
That trip was to see Backstreet Boy Kevin Richardson in the stage musical "Chicago."
"This is my first Nick concert," Baker said. "Then we're going to Chicago and then Milwaukee after that."
While Baker is a self-described "Howie girl," a fan of Backstreet Boy Howie Dorough, Snell said she also has a thing for Carter.
"I'm a Backstreet Boy fan, but Nick is definitely my favorite," she said. "Just seeing him and being near him makes me happier than anything else - and I like his voice, and it's good music."
She pulls out a plastic photo holder filled with pictures of herself and Carter, including one of the two of them in a pool in the Bahamas.
"He recognizes me," she said. "He's probably scared of me."
Troy Cousino, 35, of Lansing was first in line. He and his friends brought lawn chairs that they camped out in, starting at 11 p.m. Wednesday. The overnight low in Pontiac at that time was 6 degrees.
"It was very cold," said Cousino, opening his coat to reveal a T-shirt showing himself and Carter mugging for the camera, "but it was even colder Thanksgiving Day when I had this picture taken at the Detroit parade."
Cousino said the chance to attend the concert was worth the drive from Lansing and the overnight wait in sub-freezing temperatures.
"Obviously, with all the money he's made, he doesn't have to sell $18 tickets at Clutch Cargo's to make his fans happy, but he does," said Cousino.
While there was a festive air outside the club, the mention of another popular boy band did elicit a few groans.
"Euw," said one of the fans waiting in line. "Don't even bring them up.
"Who's 'NSYNC?"
Nick Carter Confident Despite Bumpy Road To Solo Sucess
Source: The Arizona Republic
The jump from teenybopper phenomenon to mature solo artist can be a precarious one, as the checkered latter-day careers of artists such as David Cassidy, Tiffany and New Kids on the Block show.
But Nick Carter of the on-hiatus Backstreet Boys, who has been on a solo flight since last fall, isn't intimidated by the struggles of earlier stars or by the huge solo success of a current competitor, Justin Timberlake of 'N Sync. "I'm not afraid to take chances. I'm not afraid to fall on my face. . . . I'm not afraid to lose," says Carter, who helped craft a Backstreet sound that sold 36 million albums.
Although sales of his rock-flavored solo debut, Now or Never, are lagging far behind those of Timberlake's hip-hopping Justified, Carter says, "It's a lot of fun to be able to go out there (alone) and go wild, because that's the kind of person I am."
Carter, 22 - the youngest member of a "boy band" now delving into marriage and parenthood - also says he relishes playing cozy venues, such as Phoenix's Alice Cooper'stown, as Timberlake readies a tour of major arenas with pop queen-turned-nasty girl Christina Aguilera.
"It was my idea to go do these smaller places," says Carter, who will perform for about 1,000 fans in Phoenix on Wednesday. "I wanted it to be intimate for the fans because I've been so lucky to perform at big places (with Backstreet), but when you play those big places, you tend to lose that closeness."
However, at this point there's no way Carter could fill America West Arena, where Timberlake and Aguilera will open their tour June 4.
Timberlake has scored big radio play with a string of urban-flavored singles, while Carter has generated lackluster reaction to I Got You, the lone single released since Now or Never's October launch.
But the Florida-based Carter says he isn't losing any sleep over comparisons to Timberlake.
Carter, who calls Timberlake's album "great music," contends that the 'N Sync singer had more of the spotlight in that group, helping him to quickly break into the solo arena.
Maintaining that Backstreet "is defined as a group, a team thing," Carter adds: "It's not like I'm trying to be the frontman in that group" - even though he was clearly a fan favorite, often drawing the loudest screams during Backstreet's Phoenix shows.
A programmer at Valley urban-radio powerhouse KZZP-FM (104.7), known as KISS, has a somewhat different take. He says Timberlake's affiliation with 'N Sync indeed has been an asset, while the decline of the longer-running Backstreet Boys resulted in less buzz for Carter.
"You couldn't deny the fact that Nick Carter was a superstar" in Backstreet Boys, says Tom Principale, assistant program director of KISS. "But if you're going out on your own, it really has to be something special to get the recognition of listeners and program directors."
KISS initially played Carter's I Got You, a midtempo rocker showcasing his luscious vocals, but Principale says requests for that single have fallen while Timberlake is lighting up the station's request lines with the remix of his hit Cry Me a River with red-hot rapper 50 Cent.
Carter's struggle for airplay may be due to what a purchaser for Virgin Megastore calls the bubble-gum backlash.
"Once you've been known as a teenybopper thing, it's hard to get credibility," says Tim Nielson, who coordinates the rock and pop inventory at Virgin's Arizona Mills outlet.
Carter continued working with Backstreet co-writer and producer Max Martin on Now or Never, while Timberlake enlisted top hip-hop producers, such as Timbaland and the Neptunes, to sharpen his sound.
Carter is also moving in a different direction. A few songs on Now or Never, including the piano ballads Do I Have to Cry for You and Heart Without a Home, might qualify for the next Backstreet Boys album (which could be in the works as early as this month or next, according to Carter).
"I was trying to keep some of it the same so I didn't freak the fans out too much," he says.
But much of Carter's solo music runs closer to the '80s rock of Journey and Bryan Adams, and he sounds most enthusiastic about the work that lets him stretch beyond Backstreet.
"I was kind of experimenting," Carter says. "I was a big fan of Journey. . . . They did pop songs but with live music. I wanted to bring some of that feeling back.
"When I went into the studio, I tried to create songs that were like anthems, like Bon Jovi's Living on a Prayer. Bryan Adams had a lot of anthem-ish choruses in his songs, like Def Leppard and Journey."
Both the album opener, Help Me, and another guitar-dominated track, I Stand for You, echo the upbeat rock of Adams, who recorded hits such as Cuts Like a Knife and Run to You. Carter adds some record scratching to I Stand for You to update its sound.
Girls in the USA has a rapping intro by Mr. Vegas but turns into a rocker that echoes the light metal of Mötley Crüe.
Carter co-wrote five of the album's 12 songs, including Girls in the USA and I Stand for You, but he sees this work as just a first step:
"Everything's a learning process for me. I have to start now to get where I want to be in the future as an artist."
Guiding Carter through his solo debut was Martin, who wrote or co-wrote such Backstreet hits as I Want It That Way and Quit Playing Games (With My Heart). Interestingly, Martin also wrote hits with Adams and Bon Jovi.
"It was an honor to work with him because of all the success he's had with everybody," says Carter, whose album notes say that the Swiss-born Martin is "like a brother and a father to me."
Carter says that both he and Martin were ready to move past slick pop to "more of an organic, live type of music."
Despite that new direction, Carter, who plays guitar on a handful of songs in concert, says he's performing at least three Backstreet tunes - Quit Playing Games, I Want It That Way and The Shape of My Heart.
"It's a weird combination, but that's what's cool," he says. "I'm not afraid to take that chance and mix different music together.
"That's how people are nowadays. You look into their CD case and it's not like they have all R&B in there. They've got rock, hip-hop, pop, country."
Carter and those marketing his new sound seem hopeful that the diverse tastes of record buyers will allow the singer to sustain a solo career.
"People grow up," says Mary Papenhausen, a Phoenix sales representative for Now or Never distributor BMG.
"As (Carter) matures, his style is probably going to mature as well."
Kevin Talks About New Album, Nick's Solo
Source: The New York Daily Post
BACKSTREET BOY Kevin Richardson says he's hoping to make another album with his bandmates later this year. But the star of Broadway's "Chicago" thinks that B-Boy Nick Carter bungled his solo debut, "Now or Never," which failed to catch fire when it was released in October. "I thought he did a good job," Richardson tells us. "[But] I wish he would have waited another year or two. He's still my little baby brother, you know? He needed to find himself before he ventured out"...
Chicago Review: Carter Is Happy To Play It Loud, Mostly Live
Source: The Chicago Tribune
Watching 'N Sync pay bland tribute to the Bee Gees at the Grammys, one couldn't help thinking that even if teen pop could make a comeback, maybe it shouldn't. After all, it has been a lot more fun to ponder Christina Aguilera's skanky makeover and relish the success of Justin Timberlake's urban renewal plan. Suddenly, anything seems tantalizingly possible in the world of teen pop as these one-time sensations scramble for respect and relevance, some fostering schadenfreude while others orchestrate comebacks.
Compared with Christina and JT, Backstreet Boy Nick Carter's solo bow, "Now or Never," sounds especially, if endearingly, square. "Now or Never" might have made a more successful escape from boy band oblivion had Carter (the blond one) and his crew of skilled hitmakers stuck with one style. Instead the disc wobbles between giddy glam-metal, pop piffle and cheesy power ballads, as if Carter were hedging his bets.
Indeed, Carter relied on Swedish genius Max Martin to contribute the disc's rousing highlights, yet his preternaturally perfect production calls attention to Carter's weak, all too human voice.
OK, so he can't sing. That hasn't stopped most pop stars, and it didn't hurt Carter Friday at the House of Blues, where he showed off his newfound affection for live, loud instruments over canned beats.
The cozy club confines helped magnify his multiplatinum-enhanced star power, though the small venue offered unique challenges. Unlike the stadiums where the Backstreet Boys played, the House of Blues kept his adoring fans intimately close. Carter spent much of his 90-minute set dodging undergarments, love notes and plush-toy projectiles. Yet Carter seemed to enjoy the interaction with the generation-spanning crowd as much as he enjoyed reinventing himself as a rabble-rousing rocker.
Free to explore his inner Bon Jovi, Carter indulged in a different kind of choreography. He jumped onto the drum riser, kicked over his microphone stand and even picked up a guitar to strum a few chords. With songs such as the very Def Leppard-inspired "Girls in the USA" and the monolithic "Blow Your Mind," he offered larynx-shredding instead of sweet crooning. He later covered the Cars' "Just What I Needed" and showed off his tattoo.
Carter did deign to play an unplugged set of Backstreet Boys favorites, which sent waves of hysteria through the crowd (who received not one but two safety speeches before the show began). But Carter sang "The Shape of Your Heart" and "I Want it That Way" with the resignation of someone who has performed those songs so many times that he probably wakes up in the middle of the night humming them.
No, what Carter wanted was to rock, and with his young, eager band backing him, he got his wish. In fact, so earnest were Carter's renditions of "I Just Wanna Take You Home" and the closing anthem "I Got You" that the 23-year-old's transformation into Bryan Adams seemed complete. But only time will tell whether the apparently honest change in direction proves more than just a strategic holding pattern until his five-man meal ticket reforms.
Boston Review: Nick Carter Rocks Hub
Source: Eagle Tribune
Fans of Backstreet Boy Nick Carter came to the Avalon in flocks on Monday to see him perform solo in support of his debut CD, "Now or Never."
Dedicated followers of Carter lined up on the street in the early hours of the morning with chairs and blankets in tow to grab a spot in line for the general admission show. The concert had been scheduled for Feb. 19, but was postponed due to the blizzard. It was worth the wait.
Opening act Vi3 got the audience's attention when Massachusetts native and group member Jackie Salvucci belted out the words to the group's current single, "Eyes Closed So Tight."
The short set included only three songs, but the dance break featured the familiar pelvic thrusts of a Backstreet Boys show to get the crowd into a frenzy. The other opening act, Justincase, featured family members Nick, Hannah, and Justin Tosco who set the mood for the night with their refreshing rock sound and baby-faced lead singer. Gaining fame from MTV with their single, "Don't Cry For Us" which was co-written with Michelle Branch, the group performed what seemed to be an endless number of catchy songs while the audience grew impatient.
Finally walking onto the stage in a faded-red T-shirt, jeans and a black hat, 23-year-old Nick Carter introduced himself to Boston by singing a song he co-wrote, titled "Girls In The USA."
During the song Carter earned points from the ladies of Beantown when he sang the line, "Boston's got the ones I love, with the college girls at the Aria."
Even more amusing was his attempt to master the Massachusetts accent by calling the city "Bowwstan" between songs. The screams grew louder, and the pushing became apparent as he continued through the night with upbeat favorites like "I Stand For You" and "Blow Your Mind."
Giving in to the rock lifestyle, Carter romped around onstage like a tornado heaving everything in his path. Proving he's more of a rocker than critics will give him credit for, Carter showed off his guitar skills by playing for the majority of the show.
The only choreography he put effort towards was his worn-out robot impression which was almost as tacky as his appearance on the TV show "8 Simple Rules For Dating My Teenage Daughter."
His connection with the audience grew stronger when he sang a medley of Backstreet Boys hits including, "Quit Playing Games (With My Heart)," "I Want It That Way," and "Shape of My Heart." Those weren't the only familiar songs of the night; Carter also did covers of "Shout" by Michael Jackson, "Just What I Need" by the Cars, and "Paradise City" by Guns 'N Roses. The front row became drenched as he spit out water and threw the bottles in every direction in between pelvic thrusts and bon-bon shaking.
With all the excitement in the air, several teenagers had to be taken out by security due to fainting, overheating and asthma attacks -- he seems to have that effect on young girls.
At one point during the song "Help Me," security grew concerned for the blond-haired singer as they watched him jump onto the large black speakers, which lined the sides of the stage. After climbing up three sets of speakers that looked like they were about to tumble to the ground, Carter jumped to safety and finished his show with his current single, "I Got You."
Fans reached out one last time for Carter as tears flowed and he waved good-bye to Boston.
Monday, March 3, 2003
Singer's Fine Benefits Keys Sea-grass Project
Source: backstreet.net
FERTILE APPROACH: Singer's fine benefits Keys sea-grass project
By JENNIFER BABSON
KEY WEST - Nearly two years after Backstreet Boy Nick Carter grounded his 45-foot boat off Marathon, the $30,573 federal penalty he paid is being put to use.
During the next few weeks, biologists from the National Oceanic and Atmospheric Administration will use part of the money to start installing a series of bird stakes -- basically vertical pipes topped by four-by-four-inch wooden blocks -- in waters off Marathon.
The idea: The contraptions will become roosting places for cormorants and other seabirds whose droppings will jump-start the growth of sea grass transplanted to replace what was destroyed by the grounding.
''It's basically natural fertilizer,'' said Cheva Heck, spokeswoman for the Florida Keys National Marine Sanctuary, which is supervising the project. ``Just the same way you would fertilize your garden, its nutrients will speed the growth of the sea grass.''
About 97 stakes will be placed in the area -- larger than a tennis court -- where the May 2001 grounding occurred, Heck said.
The grounding took place less than half a mile from shore on the bay side of Knight's Key in Marathon, not far from the Seven Mile Bridge. Carter, his parents and his siblings live in a waterfront estate a few miles north in Marathon.
Efforts to reach Carter on Wednesday were unsuccessful.
At the time of the incident, a tow company's efforts to pull Carter's boat -- named N'Control -- out of the shallows added to the damage, Heck said.
Sea grass is considered key to the health of nearby coral reef habitats. It serves as a nursery for baby fish, lobster and turtles, and is a favorite food source for tarpon, bonefish and manatees.
About 30,000 acres of sea grass in the Keys bear the scars of boat propellers. The damage around Monroe is greater than in any other county in Florida, Heck said.
The bird stakes off Marathon will be the first in a series of such temporary structures that are scheduled to be erected up and down the Keys in the coming years, said Sean Meehan, a field scientist for NOAA's Damage Assessment Center. NOAA has tested stakes in some places for a few years now.
EASILY ATTRACTED
Feathered creatures, said Meehan, flock to the perches in no time.
''It's really pretty quick, within a couple of weeks we see birds roosting upon them,'' he said. ``It's ideal. They are in the open so the birds can see any predators coming at them, and they are over water, which is where the birds feed.''
The main ingredients for this novel approach can be found at any hardware store and cost only a few dollars.
At the Marathon site, the stakes will be placed in a pattern two meters apart and will be no more than 10 inches above water at high tide -- a height that makes it easier for the auspicious ''bullets'' to reach their targets.
Reflective tape wrapped around the base helps keep the stakes from looking like channel markers, Meehan said.
OTHER GRASS
After 18 months, the stakes will be pulled to allow for the growth of other kinds of grass -- the slower-growing turtle and manatee grasses -- which will spring up once the sediment has been stabilized.
Moreover, researchers will return to the site to extensively measure grass growth and other factors eight times during the next five years.
Said Meehan: ``We don't want to use all this money Mr. Carter is providing for the injury and have the grass die.''
Carter Just One Of The Boys
Source: The Toronto Sun
Once a Backstreet Boy, always a Backstreet Boy. Nick Carter -- touring in support of his pop-rock solo debut, Now Or Never -- proved his BSB membership remains intact on Wednesday night during a sold-out show at Kool Haus in front of hundreds of screaming, mostly young, female fans.
The youngest Backstreet Boy, who is playing considerably smaller venues than the arenas and stadiums his former boy band enjoyed in their heyday, got the loudest response when he trotted out a trio of -- you guessed it -- BSB hits.
Quit Playing Games With My Heart, I Want It That Way, and Shape Of My Heart, came during the unplugged and seated portion of the concert, about mid-way through Carter's 85-minute set.
The audience responded with a spirited singalong when fans were actually passing out amid the pandemonium.
Otherwise, the sweet-voiced singer, dressed down in an "ARMY" T-shirt and baggy jeans which showed off black Calvin Klein underwear, put away the choreographed dance moves, big sets and special effects that were BSB's trademarks.
Instead, Carter went for the stripped-down and sweaty bar band approach with his five backing musicians happily following his animated lead.
The problem was there's nothing really remarkable about his material which gives major shout outs in the influence department to Tears For Fears, The Cars, A-HA, Guns N' Roses, and Bryan Adams.
In fact, he even inserted bits of Tears For Fears' Shout, A-HA's Take On Me, Adams' Everything I Do (I Do It For You) and GNR's Paradise City into his own songs while outright covering The Cars' Just What I Needed.
Occasionally, Carter even strapped on an electric guitar, but it seemed more like a prop than anything else, and such horrible rock songs as Girls In The USA, or saccharine ballads like Who Needs The World and Heart Without A Home didn't further his credibility.
Meanwhile, with the Backstreet Boys filing a $75 million lawsuit against their label for holding up the release of their fourth album last year -- opting to produce and record Carter's solo album instead -- clearly all is not well in the BSB camp.
And with Now Or Never hardly flying out of record stores, Carter may find himself playing even smaller venues than Kool Haus should he return.
Maybe when you've sold 36 million albums, as the Backstreet Boys have done, it doesn't matter.
NICK CARTER
'Backstreet's already back'
Boys' Carter Tires On A Solo Career
Source: The Denver Post
By G. Brown, Denver Post Popular Music Writer Friday, February 28, 2003 - The youngest member of the Backstreet Boys has recorded his first album away from teen pop's now-old-timers. On "Now or Never," Nick Carter trades the slick harmonies and epic production of BSB songs for a more '80s pop-rock direction. Nick Carter takes the stage at 7 p.m. Monday at the Paramount Theatre. Tickets, available through Ticketmaster, are $27.
"A lot of people are like, 'Oh, he's trying to be something that he's not.' The thing is, I'm trying to be myself, to do what I love and what comes from my heart," the boy-band heartthrob said recently.
It's an agreeable if predictably lightweight style. "Help Me" promotes the singer-songwriter feel. Guitar, bass and drums furnish the bulk of the instrumentation, and Carter's vocals are brought to the front. "Do I Have to Cry for You?" a glossy, ornate ballad, prolongs his musical soul-searching.
"It took that form because I'm a drummer, and I play guitar, also," Carter, 23, explained. "My main goal was to take pop songs and add live instruments to them, get that kind of feel going. I was very influenced by bands from the past like Journey and Tears for Fears. They were considered pop bands back in their day."
Blond, good-looking, Carter has assembled a band, and he's supporting "Now or Never" on tour. He'll visit the Paramount Theatre on Monday night.
"I pick up the guitar three or four times on stage," he said. "Other times, I take the mike and perform for the audience."
According to Carter, playing smaller stages than he did with Backstreet Boys is taking some getting used to.
"I wanted to grind it out again, show people that, even though I've had a lot of success with what I've done in the past, I'm willing to work for anything I get. I don't ever take anything for granted.
"This tour is cool. I don't have any hotel rooms, I'm just staying on my bus. We're all traveling around, playing gigs in little clubs. I feel like I'm giving back to the fans, something a little closer and intimate. It's a whole different vibe."
Carter also has a budding acting career. He appeared on NBC-TV's drama "American Dreams" as the frontman of Jay & the Americans.
"If people dug it, I'll keep going. But I'm not going to do something that doesn't fit my description, something I ain't good at like I used to do when I was younger. I'm a freak for music, for live performing. I might dedicate more of my time to that. Who knows? As long as it's still fun and exciting, I'll do it."
Carter is the first Backstreet Boy to undertake a solo career, but he doesn't know how the experience will carry over into the group. His excursion into rock has thrilled some fans and estranged others.
"If anybody disagrees with what I'm doing, come check out the show and then make your judgment. At the end of the day, I've been doing this long enough to have come to a decision. If I'm not happy doing what I'm doing, and if I'm not doing something that's real, then I'm not going to do it at all," he said. "Of course, it's scary. As a solo artist, I take on a lot of responsibility that I didn't realize until I actually got into it. But it's cool. I'm an adventurous person, and I love challenges."
Wednesday, February 26, 2003
Nick To Appear At TV Land Awards
Source: classictvhits.com
After having 10 concerts in a row, it looks like Nick gets to spend his day off at an awards show.

John Ritter will host TV LAND'ss first-ever awards show, recognizing the best and brightest stars, shows, and stories from television's rich history. TV LAND, together with some of the most beloved celebrities of modern and classic TV, will honor the legends, the innovators, and the unsung heroes of television's past. You are invited to join the fun and excitement the famous Hollywood Palladium on Sunday, March 2 (airing Weds. March 12) as the stars arrive for the TV LAND AWARDS. Martin Mull will be hosting the star arrival festivities along with Kathy Najimi (Suddenly Susan, King of the Hill, etc...) and Keisha Knight-Pullum (The Cosby Show) and more stars to be announced!

Stars scheduled to participate include:

Dick Van Dyke, Mary Tyler Moore, Carl Reiner, Rose Marie, Larry Mathews , Rob Reiner, Sally Struthers, Martin Short, William Shatner, James Doohan, Diahann Carroll, Dick Clark, the cast of "American Dreams" , ALF, Conrad Bain, Kathy Bates, Barbara Billingsley, Todd Bridges, Nick Carter , Gary Coleman, Ted Danson, David Hasselhoff, Sherman Hemsley, Davy Jones, Shirley Jones, Gabe Kaplan, Peggy Lipton, Maureen McCormick, Reba McEntire, Keshia Knight Pulliam, Mason Reese, Rodney Allen Rippy, Doris Roberts, Isabel Sanford, Bruce Vilanch, Henry Winkler, Ray Charles, Stephanie Powers, Bea Arthur, David Cassidy, Barbara Eden, Barbara Feldon, Bernie Kopell, Don Knotts, Cheryl Ladd, Ted Lange, Lee Majors, Penny Marshall, Aaron Spelling, Cindy Williams, Richard Hatch, Christopher Knight, Jerry Mathers, Susan Olsen, Betty White, Barry Williams, Alan Young, and more....


Now Or Never
Source: Hot Boat Magazine
He took the offshore world by storm in much the same way he has conquered the music scene. Nick Carter announced his plans for an offshore team back at the Miami International Boat Show and nothing has been the same for Super Vee competition this year. As Carter told HotBoat, "I am a maniac when it come this boat-racing stuff!" Although he can't be in the boat, Nick Carter is a vital part of the impeccable team he has assembled. Carter told HotBoat, "We strive to find the right people, and we take care of our people. We're all about winning. I hate to lose."
As the season progressed, Nick made it his business to accommodate the ever-increasing number of fans and media at every stop. In an impressive showing, the Key West team of veteran throttleman Lee Murray and driver Steve Oropeza took the 40-foot Fountain to the winner's circle seven times and captured the 2002 National title. "I am very happy that I have an incredible team," Nick said. "They have worked very hard and put all this together."
Following the team win on Wednesday (Nov 20), an elated Nick told HotBoat, "I'm very happy with the way the engines were running. Mercury has really supported us." Carter continued, "We had some competition early in the race, and we stood strong. The motors stood strong, the boat held up. You have to stand strong. You can't take that away from us."
Standing on the sea wall Saturday (Nov 23), Nick watched his team and cheered, "Stay strong, baby, stay strong." Their stunning performance, paired with Wednesday's victory, landed Nick Carter Racing a World Championship title. Surrounded by family, friends, and fans, Nick Carter said, "I like the energy, I like the vibe, I like the people, and I like the competition. This is why I wanted to get involved in the sport. This is the first of many things to come in the racing world. We can pioneer something here. Now we are bringing the entertainment aspect to boat racing. What a way to celebrate the concert tonight."
Nick Carter wrapped up his record-breaking season performing in a free concert Saturday night that also featured his brother Aaron, No Secrets, O-Town, and Jen.
Nick Carter- Boston Review
Source: The Boston Herald
Genre-jumping Carter delights
by Sarah Rodman
Nick Carter, at Avalon, Boston, Monday night.
If the screaming women, age 5 to 25, who packed the house at Avalon Monday were hoping Nick Carter would sing a few Backstreet Boys songs - in addition to tunes from his new solo album ``Now or Never'' - Carter did not disappoint.
During the obligatory ``unplugged'' section of the 75-minute show, the youngest, blondest of the Backstreet Boys sang a medley of his band's biggest hits, including ``I Want It That Way.'' But to judge by the smorgasbord of musical styles that Carter and his five-piece band tried out during the show, it's unclear exactly which way the 22-year-old singer wants it.
Does he want to be the new Richard Marx, as in swoony piano ballads such as ``Do I Have to Cry for You?'' Or perhaps Carter envisions himself as the second coming of Def Leppard, as the big-beat pop-rock of such Mutt Lange clones as ``Girls in the U.S.A.'' imply?
It's hard to tell, since Carter also played several Backstreet-breezy pop tunes, a frantic cover of the Cars' new-wave chestnut ``Just What I Needed'' and a snippet of Guns N' Roses' ``Paradise City.'' He even flirted with a featherweight rap metal tune.
The show lacked a cohesive attitude, with Carter seemingly at war with his own impulses. And his already whiny voice sounded painfully hoarse. But he clearly was right at home alone on a smaller stage, sans fancy dance moves or special effects.
Although he may have demonstrated some rock 'n' roll credibility, the supremely caucasian Carter almost derailed his own train when he proclaimed, ``For all them playa haters who didn't show up, they're going to miss one hell of a show.''
He may try on many styles in the future, but Carter might want to leave Gangsta Nick at home.
NJ Concert/Review : "Street" Scene Gets Tough
Source: Newsday,Inc
As a solo act, Backstreet Boy Nick Carter wants to rock
MUSIC REVIEW By Kevin Amorim, STAFF WRITER
Meet the tough new Nick Carter.
He wears a black commando sweater (100 percent wool no doubt, very itchy). He has a biker wallet with a chain dangling from his big leather belt. He flails around on stage, throwing his mike stand and splashing the front rows with his water bottle. And what's this? The cutest of the Backstreet bunch slings a guitar - for a couple of songs at least.
He's a rocker now.
Carter also wears his influences on his commando sweater sleeve, which he took off after "My Confession," an apparent Bryan Adams homage. Then there's the "Pour Some Sugar on Me"/Def Leppard feel to "Girls in the USA," the sold-out show's opening number. And the Bon Jovi-like ballad, "Heart Without a Home (I'll Be Yours)"; to be fair, its Jersey sound shines through more on the album version.
Carter's solo debut from last fall, "Now or Never" (Jive), is what brought 1,500 people - the majority of which looked to be the future of Long Island womankind - to the Vanderbilt Saturday night. The girls got more than just one Carter, though. Little blond bro Aaron, at first hidden in a parka, introduced the night's headliner, "Give it up for my big brother." (Aaron was later spotted in the WBLI/106.1 FM skybox, causing a mad dash for autographs and photos.)
But big brother managed to keep most of the eyes on him. Carter, 23, dipped back into the Backstreet Boys' catalog a few times, most notably on "Shape of My Heart," from 2000's "Black & Blue" (Jive). This "Heart" took shape during the night's special acoustic segment, with all the musicians sitting around on chairs, a la "MTV Unplugged."
Carter also sneaked in some covers, including the Cars' "Just What I Needed" (Ric Ocasek call your lawyer!) and a roaring techno version of the Isley Brothers' "Shout" that mutated into Tears for Fears' song of the same name. For the latter tune at least, he sounded as tough as had been advertised, even for a guy who uttered early on, "Plainview! Yo! Yo!"
Warming the stage for Carter was the Charlotte, N.C., five-piece Justincase, which played rootsy feel-good Hooters-esque rock (hey, at least it wasn't emo). At Justincase's core are the teenage Tosco siblings - Justin (of course), Nick and Hannah. The group played an earnest set from its self-titled Maverick debut, and even covered Tommy Tutone's old power-pop gem "867-5309/Jenny." It was the sound of a beer commercial from an underage band.
The night's openers, a Windy City trio named Vi3, had the stage presence of a Beastie Boys for the pubescent set - without any good rhymes. It was their first national tour, one of the boys said between the three (!) songs they performed. But everyone knew that from looking at the group's new, blindingly white sneaks.
Sunday, February 23, 2003
Nick Carter's Solo Tour Postponed By Blizzard
Source: Launch Media
The first date of Nick Carter's solo tour in support of his debut album, Now Or Never, was postponed due to the blizzard that blanketed much of the East Coast with snow on Monday (February 17).
"I hope the weather hasn't affected anyone too badly," said Carter. "I'm really excited about getting on the road to perform for my fans."
Carter was to perform in Pittston, Pennsylvania, on Monday, but was forced to cancel the scheduled performance. The second date of Carter's tour--scheduled for the Vanderbilt in Plainview, New York--was postponed from Tuesday (February 18) to Saturday (February 22). Opening for Carter on tour are 3LW and Justincase.
Nick Carter's updated tour schedule (subject to change):
February 20 - Sayerville, NJ - Hunka Bunka Ballroom
February 22 - Plainview NY - The Vanderbilt
February 23 - Philadelphia, PA - Theatre Of Living Arts
February 24 - Boston, MA - The Avalon
February 25 - Pittsburgh, PA - Metropol
February 26 - Toronto, ON - Kool Haus
February 27 - Pontiac, MI - Clutch Cargo
February 28 - Chicago, IL - House Of Blues
March 1 - Milwaukee, WI - The Rave/Eagles Ballroom
March 3 - Denver, CO - Paramount Theatre
March 5 - Phoenix, AZ - Alice Cooper'stown
March 6 - West Hollywood, CA - House Of Blues
March 7 - Las Vegas, NV - House Of Blues
March 8 - Anaheim, CA - House Of Blues
March 9 - San Francisco, CA - The Fillmore
Boy's Growing Pains
Source: NorthJersey.com
Nick Carter says to hold off on comparisons to Justin Timberlake.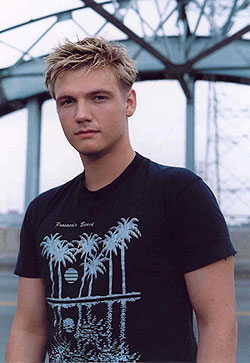 WHO: Nick Carter and Vi3.
WHAT: Pop.
WHEN: 7 p.m. Thursday.
WHERE: Hunka Bunka Ballroom, Jernee Mill Road, Sayreville, NJ. (732) 254-6701.
HOW MUCH: $18. Box office or TicketMaster.
The celebrated boy bands of the Nineties are growing up. Nick Lachey of 98 Degrees got married. N' Sync's Lance Bass is a wannabe astronaut. Backstreet Boys' Brian Littrell is a father.
And fellow Backstreeter Nick Carter is looking for artistic identity.
Carter, 22, released his solo debut, "Now or Never," in October to less than enthusiastic reviews. The release is on the brink of going gold - respectable, but hardly outstanding.
That pales to Justin Timberlake's solo debut, "Justified," which was released within a week of Carter's effort and has gone double platinum without the benefit of a tour.
"I'm not paying attention to what Justin has done," said Carter. "I wish him well, but I'm doing my own thing. We made two different albums. There's room for everybody. He's doing his thing. I'm doing mine."
"Justified" is much funkier than anything N' Sync has produced, and Timberlake won acclaim for breaking ground. It's a different story for Carter. "Now or Never" isn't a considerable departure from the Backstreet sound. The rhythms are stronger; new beats punch up the mood behind Carter's capable voice, and the lyrics are a bit steamier.
Still, Carter said, "My album definitely has a different feel to it. I want to bring a new flavor. But I had to stay within perspective. You can't just go from totally hot to totally cold. It's going to shock people. I had to slowly build into it. I have to grow into what I'm doing. It takes time."
Carter says he hasn't found his songwriting touch just yet.
"Writing wasn't something I did until recently. It came naturally, but at the same time I worked real hard to find how I wanted to be perceived as an artist."
Writer-producer Max Martin, who has penned many of the Backstreet hits, held Carter's hand. Martin contributed "I Just Wanna Take You Home," by far the catchiest track on "Now or Never."
"I'm sitting back and learning from him," Carter said. "He's like a brother or a father. He's incredibly talented."
Carter is showcasing his solo material in venues such as the Hunka Bunka Ballroom in Sayreville, where he will perform Thursday, and tellingly, seats are still available.
"Most fans don't know that I've played in bar bands as a drummer during Backstreet breaks," Carter said. "But this tour is obviously going to be different from that. I'll be up front. It's been a while since we [the Backstreet Boys] played in clubs. But I'm looking forward to it. It's always good to see the faces in the crowd."
After Carter's tour ends in March, Backstreet will be back on track, reconvening in the studio in April.
In the meantime, the credibility issue looms for Carter.
"That comes over time," Carter said. "I think some of the people who you think aren't credible at the beginning of their career sometimes surprise people. Take Madonna, for instance. I'm just trying to find myself. I realize that in time I will gain credibility. Patience is a virtue."
Sunday, February 9, 2003
Now Or Never U.S. Tour Dates
(dates are subject to change)
February 17 - Pittston, PA - The Staircase
February 18 - Plainview NY - The Vanderbilt
February 19 - Boston, MA - Avalon
February 20 - Sayerville, NJ - Hunka Bunka Ballroom
February 22 - San Juan, PR - Tito Puente Amphitheatre
February 23 - Philadelphia, PA - Theatre Of Living Arts
February 25 - Pittsburgh, PA - Rock Jungle
February 26 - Toronto, ON - Kool Haus
February 27 - Pontiac, MI - Clutch Cargo
February 28 - Chicago, IL - House Of Blues
March 1 - Milwaukee, WI - Rave/Eagles Ballroom
March 3 - Denver, CO - Paramount Theatre
March 5 - Phoenix, AZ - Alice Cooper'stown
March 6 - West Hollywood, CA - House Of Blues
March 7 - Las Vegas, NV - House Of Blues
March 8 - Anaheim, CA - House Of Blues
March 9 - San Francisco, CA - The Fillmore
New NCR Merchandise
Source: nickcarteroffshoreracing.com
National & World Champion T-Shirts are now here. Get yours while they last! Log onto the offical website and click STORE.
Nick Guest Appearence On Friday, February 14
Source: nickolas-carter.com

One of Nicks good friends, Tony, has his own band called II Deep, and II Deep are performing on Friday, February 14, 2003 in Tampa. Nick is set to make a guest apperance. If you wanna join the party, check out all the information
Here
Or
Here
Nick Nominated For MTV VMA Japan
Source: Hitomi
He has been nominated for BEST MALE VIDEO, BEST NEW ARTIST IN A VIDEO and BEST POP VIDEO.
Some Tidbits About Nick in Japan
Source: Hitomi
According to BSB official Fan Club in Japan, NOT LIKE YOU is not a cover song. It's a song he recorded for NON and even though the song didn't make it on the album, Nick still like it. Feb.5th, Nick had a dinner at the Ninja Restaurant. When he was in Japan last October, he went to that restaurant and now it's his favourite. At this restaurant Ninja performs for guests. Feb.6th, Nick performed in Tokyo. The set list was the same. I couldn't go there tonight, but my friend did. I heard these from her thatvNick dropped his microphone and laughed while he was singing. Band members made fun of Nick. She said that Nick was totally cute!
8 Simple Rules' Actresses Talk About Nick
Source: Heart&Soul
Kayley Cuoco (Bridget) & Amy Davidson (Kerry) talked about Nick Fridday morning (2/7) on the Rick Dees show! They mentioned that Nick got them backstage passes to his show here in Cali. They also said that he was really nervous and hyper! He came to all the read-throughs and rehearsals and he told them that he wants to be an actor.
REMINDER: Nick guest stars again this Tuesday (2/7) as Ben Hatcher, Bridget's Drum Instructor in "Little DrummerBoy- Part 2"
Saturday, February 1, 2003:
Industry To Use Pop Singers To Boost Life Jacket Use
Source: Boating Industry International Online
Pop singers Nick and Aaron Carter will appear in an upcoming safety video aimed at popularizing the use of life jackets by boaters and anglers, the National Marine Manufacturers Association (NMMA) announced on Friday, January 31.
"We're into helping to save lives," said Nick Carter, 22, who made a name for himself with the Backstreet Boys. He and his kid brother, Aaron, 14, took some time in Key West during the recent APBA Offshore World Powerboat Championships (in which Nick's Super Vee Class boat won the World's) to appear in the video being produced by the Personal Flotation Device Manufacturers Association (PFDMA) under a grant from the United States Coast Guard.
"It's only a cameo performance, a short session with the boys talking to each other," but it gets the safety story across to teenagers," said Jim Zons who is co-producing the video with Bob Black for the PFDMA. "The kids are obviously used to working in front of a camera and working fast. They did it in only two takes," veteran cameraman Zons said.
The grant project calls for production of two educational videos, one targeted to consumers, and the other to the boating safety community, including those who retail boating safety equipment.
The project will focus on high risk boating segments such as anglers, children, canoers & kayakers, and other small boat operators," said Bernice McArdle, NMMA associate director of affiliates and project manager for the grant initiative. "This is where most drownings still occur and industry has the highest opportunity to impact behavior."
The Carter boys are the lead-in to the segment of the video that features actions sportswater skiing, wakeboarding and tubingand underline the importance of wearing life jackets while on the water.
"8 Simple Rules" Reminder
Source: KAOS' korner
Following up his stint on "American Dreams" as the frontman of a band, Nick Carter has his next television acting role lined up. The Backstreet Boy is set to play a music teacher on two upcoming episodes of the ABC comedy "8 Simple Rules for Dating My Teenage Daughter." Carter will tape his part next week, and the episodes will air February 4 and 11. ...
Sunday, January 26, 2003:
ROCKSTAR BABY
Source: nickolas-carter.com
Rockstar Baby is one of the songs that is available on the single "I Got You" If you want to download a Windows Media Copy
Click Here
Nick Carter To Play Toronto:
Source: Chartattack.com
Backstreet Boy cutie/Justin Timberlake rival Nick Carter will be spending the latter part of the winter on his very first tour sans Kevin, A.J., Brian and Howie. Nickie will sweep through most major American cities and will make one lone Canadian stop in (you guessed it) Toronto.
Backstreet devotees will get a chance to see Carter in the relatively intimate setting of the Kool Haus on February 26. Tickets go on sale this Friday (January 17) at 10 a.m. through all Ticketmaster outlets, Rotate This and Sonic Temple. Tix are going for a mere $25 again, probably much less than youd pay to see Nick play with the boys of Backstreet. We encourage all Carter fans to purchase their tickets at Rotate This.
Carter is touring in support of his debut solo album, the recently released Now Or Never. The album has already caused its fair share of controversy and not just because it forced Carter to go head to head with *NSYNCs Justin Timberlake, who also released his debut solo album, Justified, this fall. The album prompted the rest of the Backstreet Boys to launch a law suit against their label, Zomba, for focusing on Carters solo album rather than supporting the career of the full band. BSB are seeking release from their contract, plus $75 million. Zoinks!
If Nick Carter is a little too mellow for your tastes, a classic metal double-bill, featuring Scorpions and Whitesnake (together at last!) will be swinging through T.O. on March 15. The veteran long-hairs will be joined by the equally experienced Dokken for what is promised to be a four-hour metal marathon. Tickets for the show, whichll take place at the Air Canada Centre, also go on sale this Friday (January 17) at Ticketmaster.
Nick Carter has canceled his trip to Singapore
Source: MTV ASIA
Citing "scheduling conflicts" as the main reason, Nick has decided to cancel his appearances at the 2003 MTV Asia Awards and the regional press junket and showcase at Hard Rock Cafe. From the official press statement, the cancellation was due to a change in tour schedule for Nick and his band, making the six-day Singapore trip impossible.
"I wish I could be in two places at once. I've been waiting to see my fans in Asia for so long and I'm working out a plan to get over there as soon as this tour is finished. My biggest regret is that I won't be able to make it to the MTV Asia Awards," said Nick in the press statement.
Zomba Asia Pacific Director, Ryan Wright also commented: "Nick's sold-out concert tour, beginning four days after the awards, had to be moved forward for various immutable reasons. Although there will be many disappointed fans next week, Nick had to fulfill his commitment to this tour."
Sunday, January 12, 2003:
Nick Carter Plans To Get "Dirty" On HIs First Solo Heading Tour
Source: Launch
Nick Carter will kick off his first solo tour in support of his debut Jive Records album, Now Or Never, on February 17. At 22, Carter is the youngest member of the Backstreet Boys, and he is the first member of the group to launch a solo career. His tour will visit small to midsize clubs and theatres in 17 U.S. cities, and it will continue into early March.
Carter, who has played huge arenas and stadiums with the Backstreet Boys in the past, said that the intimate setting of his solo shows will allow for him to interact with his fans. "I wanna be dirty," Nick said. "I wanna be sweaty. I wanna be closer to fans. I wanna be so close to where I could like just touch them, you know what I'm sayin'? And you know, it's just instruments and a P.A. in a little club with a bunch of people who want to hear you, and if they like the music I'm going to give them one hell of a show."
Carter's Now Or Never came out on October 29 and debuted at Number 17 on the Billboard 200 albums chart in early November. Tickets for Carter's tour are available via ticketmaster.com.
Maverick Records sibling trio Justincase will join Carter on the road in February. Brothers Justin Tosco and Nick Tosco and sister Hannah Tosco will be opening the shows February 17-25. "Nick's got, like, a two-part tour. The first part is a bunch of East Coast dates, and the next is a bunch of Midwest dates, and we're doing all of the East Coast dates during, like, the second week in February," Justin told LAUNCH. "We're really psyched about that--it should be great!"
Nick Carter tour dates (subject to change):
February 17 - Pittston, PA - The Staircase
February 18 - Plainview NY - The Vanderbilt
February 19 - Boston, MA - Avalon
February 20 - Sayerville, NJ - Hunka Bunka Ballroom
February 22 - San Juan, PR - Tito Puente Amphitheatre
February 23 - Philadelphia, PA - Theatre Of Living Arts
February 25 - Pittsburgh, PA - Rock Jungle
February 26 - Toronto, ON - Kool Haus
February 27 - Pontiac, MI - Clutch Cargo
February 28 - Chicago, IL - House Of Blues
March 1 - Milwaukee, WI - Rave/Eagles Ballroom
March 3 - Denver, CO - Paramount Theatre
March 5 - Phoenix, AZ - Alice Cooper'stown
March 6 - West Hollywood, CA - House Of Blues
March 7 - Las Vegas, NV - House Of Blues
March 8 - Anaheim, CA - House Of Blues
March 9 - San Francisco, CA - The Fillmore
Backstreet Boy Launches Solo Trek:
Source: Rolling Stone
Backstreet Boy Nick Carter will kick off a solo tour in support of his first full-length release, Now or Never, on February 17th. The seventeen-date U.S. tour will wrap up in San Francisco in early March. Carter's solo release has been the source of much turmoil for the Backstreet Boys, prompting a $75 million suit against Zomba Recording Corporation with all five of the Boys listed as plaintiffs. The group alleges that the parent company of Jive Records prevented Carter from fulfilling his contractual obligation to the Backstreet Boys by demanding that he release a solo effort, which further held up the release of the group's fourth album, the follow-up to 2001's Black and Blue.
Baby Backstreet Goes Solo:
Source: Pollstar.com
Hold on to your heartstrings - Nick Carter is hitting the road by himself. The Backstreet Boy has remained true to his expressed desire of playing smaller venues and will be serenading theatre-sized stages on his tour. Carter's debut solo venture launches February 17 and continues into March.
With the release of Carter's solo debut album, Now Or Never, last fall and his subsequent tour, Backstreet fans are left pondering their beloved band's fate. Never fear - this is only a temporary break in the Boys' career. Backstreet are said to be working on a new album, with Carter included in the mix.
In addition to branching out as a solo artist, Carter has taken to acting. He can be found on the NBC show "American Dreams" as the frontman of the 60s band Jay & The Americans.
Update On "8 Simple Rules":
Source: MTV. com
Following up his stint on "American Dreams" as the frontman of a band, Nick Carter has his next television acting role lined up. The Backstreet Boy is set to play a music teacher on two upcoming episodes of the ABC comedy "8 Simple Rules for Dating My Teenage Daughter." Carter will tape his part next week, and the episodes will air February 4 and 11. ...
NEW VERSION OF "SHOUT ":
Source: nickolas-carter.com

There is a new version of Shout featuring Nick and Michael Jackson available. You can download it from:

Dirty Little Secrets

and full credit goes to that site as it is apparently an exclusive version made available to them.


Sunday, January 5, 2003:
Nick's Now Or Never Tour Dates:
1/24 : MTV Asia Awards - Singapore (MTV Asia)

2/1 : Nagoya, Japan

2/3 : Osaka, Japan.

2/4 : Osaka, Japan.

2/6 : Tokyo, Japan.

2/7 : Tokyo, Japan.
Nick's 8 Simple Rules' Update:
Source: Entertainment Weekly
According to Entertainment Weekly (1/10), Nick Carter will appear in 2 episodes of ABC-TV's "8 Simple Rules for Dating My Teenage Daughter" this winter as a music teacher for Bridget.