NEW SINGLE TRACKLISTING
Source: nickolas-carter.com

Nick's new single "I Got You" is available for pre-order. The tracklisting is as follows:

I Got You
Is It Saturday Yet
Rockstar Baby
I Got You (Enhanced Video)

To Pre-Order, visit www.amazon.com
Nick To Guest Star on ABC's 8 Simple Rule
Source:ET
Nick confirmed that he will guest star on 8 Simple Rules in the new year. The show airs Tuesday nights on ABC at 8pm. I will add the date as soon as it's available.
Sunday, December 15, 2002:
All five members of BSB have a sitdown with MTV New reporter John Norris as they discuss their lawsuit against their record label, their next album and if it's their last, their Summer tour, and they will personaly adddress the rumors of a breakup.
Backstreet Boys Sue Zomba For $75 Million:
Source: Billboard.com
Source: Launch.com
The Backstreet Boys are suing Zomba Recording Corporation, the parent company of the group's label, Jive Records, claiming a fourth studio album was bypassed in favor of the solo project by group member Nick Carter.
Source: Launch.com
The Backstreet Boys are eyeballing a new album and tour for 2003, despite recent legal problems with its Jive Records label.
Source: MAKE-A-WISH-MID SOUTH
Source: the janesville gazette
Source: AP
Source: Launch.com
Source: New York Daily News
NEW YORK -- Backstreet Boy Nick Carter spent the last decade of his life as the dream date for millions of American girls. With his puppy-dog eyes, shaggy blond hair and goofy sense of humor, he was the very embodiment of the teen-pop phenomenon -- pretty, happy and bland.
Source: teenpeople.com
Having grown up in a group, it's Nick's time for solo shine
Source: nickcarteroffshoreracing.com
Source: nickcarteroffshoreracing.com
The Store will be closed from Wednesday, November 20th - Sunday, November 24th. All items will be sold at the races. For whatever is left over we will re-open the store on Monday, November 25th.
On The Rise: Nick Carter
Source: CDNOW
Nick Carter: Hopefully, It's Now Backstreet Boy-turned-solo-artist Nick Carter talks about his bandmates, his rivals (this means you, Justin), and his surprising love of Bon Jovi.
By Allison Stewart, CDNOW Senior Editor, Pop Who: Sometime Backstreet Boy-turned-solo-artist Nick Carter.
What: Now or Never, his solo debut.
Why he might sound familiar: Hello? He's a Backstreet Boy.
You'll like him if: You like Bryan Adams-style pop-rock. Yes, we said Bryan Adams. Carter's solo debut draws more from guitar-oriented rock than pop.
His story in a nutshell: With the Back Street Boys on hiatus, Carter, who claims he was always a closet rocker, figured it was time to indulge his inner Bon Jovi. "I grew up on Bruce and Bon Jovi, and Bryan Adams," he says.
What teen pop fans might think of Nick Carter, V. 2.0: "There is still a pop feel to the album -- it's not a total departure," Carter says. "I think it's gonna be cool for them to see me [this way]. I don't like to stay the same. I want to come off different to people."
Putting his act together and taking it on the road: Carter says a tour is in the offing. "We've been rehearsing," he explains. "I've been playing guitar, but I don't have any tour planned yet. Right now I'm waiting to see how the album's gonna do. I want to play really small places, like 1,000 or 2,000 seaters. I would rather do it that way, and get some respect."
"I don't want people to necessarily like me in the beginning. I like being the underdog."
Justin Timberlake has a solo album out at the same time. How mad are you? "Not at all," Carter insists. "I think, honestly, he wants to do R&B, and I want to do rock. We both have something to prove. He's got more going for him at the moment, but that's OK."
No. Seriously. How mad are you? Carter knows he won't beat Timberlake's album out of the box, and, he says, he might not even want to. "I want to sweat. I don't want it to be easy. I don't want people to necessarily like me in the beginning," he says. "I like being the underdog ... It definitely is scary [being on your own]. There's a lot riding on me, but I figure you either like me, or you don't."
On a possible new Backstreet Boys album: "We'll probably record it late next year, or maybe the middle of next year," Carter says. "I feel like I'm gonna have more to offer the band [now]. I can bring some new skills. I want to make another solo album, too. I feel like this is the tip of the iceberg. But at the end of the day, I've still got a lot to learn."
Nick Carter Talks Backstreet Boys' Future, Tearful New Single, Acting......
Source: MTV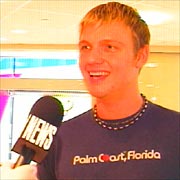 Though Nick Carter's solo album Now or Never takes a trip down an '80s memory lane, he obviously never paid much mind to the Cure classic "Boys Don't Cry" the Backstreet Boy's next single, "Do I Have to Cry For You?" insists that laying on the waterworks is nothing to be ashamed of, not even for guys.
"It's about a guy," Carter explained. "It's about a relationship, really. Relationships go bad, and things happen, and sometimes, you just want to break down, and you just want to go to [the extreme] and cry, you now? That's what that song is about. It's kind of a like a guy saying he's not too afraid to cry for his woman, because of things that have gone on, and the video really does express that. The video is perfect with what the song is."
Carter shot the video for "Do I Have to Cry for You?" in Los Angeles earlier this month with fashion photographer-turned-director Matthew Rolston (Madonna, Jewel, Bryan Adams). The flowery ballad, Carter's follow-up to "Help Me," continues the boy-band heartthrob's excursion into rock (see "Nick Carter Album A Trip Back To The '80s"), but that doesn't mean he's fully converted yet.
"It's just something different," Carter said. "I like to not come off like everyone would expect. I'm sure everyone thought it would be so easy for me to do exactly what I had done before, but why, when you can experiment? I love rock music, so the album has a rock flavor to it. But I can't say that the future wouldn't be different, that I wouldn't have other flavors and do something different. I kind of consider myself a chameleon in music. I love all sorts of music."
Carter hopes to support Now or Never on tour, and he's in the process of assembling a band for the proposed outing. "I would love to tour," he said. "I want to play smaller venues, really smaller venues, just get really intimate with the audience and start from the ground up."
Though he doesn't know how it'll end up affecting the Backstreet Boys, Carter said that he hopes his solo experience creating music on a less pop, more singer/songwriter level will bleed over into the boy band before they get too involved in the writing process. The group is currently in the pre-production stage for their follow-up to 2000's Black & Blue. "I play guitar now," Carter said, "which I didn't do before. It's more organic, what I'm doing. I feel like maybe I can bring something new to the table with them if I do something in the future with them that maybe they can just pull from what I'm learning and doing."
As for his budding acting career, Carter looks forward to future appearances on NBC's new drama "American Dreams" as the frontman of Jay & the Americans (see "Nick Carter Lands All-American TV Role"), but is also currently reading scripts to see if other roles present themselves first.
"It's cool the way they left off 'American Dreams,' " Carter said. "I could easily come back and do another episode with them. I think I'll do something else before I do 'American Dreams,' [again] though. I feel like I've got to open my doors and check out new things. As long as I enjoy anything that I'm doing, I'll do it. That's all that matters."
Tuesday, November 12, 2002:
"Do I Have To Cry For You" is the next single from NOW OR NEVER. Listen for it on your local radio stations and watch for the video soon.
Source: People Magazine
Source: launch.com
Backstreet Boy Nick Carter will officially announce the J-14 magazine Singing Starz Karaoke Contest at the Toys "R" Us in New York City's Times Square from 3-6 p.m. ET on November 5. Carter will also treat the crowd to a demonstration of Jakks Pacific's new Singing Starz Video Karaoke Machine.
Source: backstreet.net
If you live and/or are visiting the Detroit, Michigan area Nov. 27 and 28 you can see Nick at the Thanksgiving Day Parade (riding the "Club DRQ Float") on the 28th (admission is free) and you can see him at the Hob Nobble Gobble the 27th (starts at 6:00pm EST) at the new GM Wintergarten at the Renaissance Center (tickets and ticket info at 313-923-7400).
Source: New York Post
"Now or Never"
Source: entertainmentweekly.com
Source: CDNOW.com
Source: E! Online
Grade: C-
Planet Premire of Now Or Never:
Radio Disney is doing a Planet Premiere of Now Or Never on Friday 26 October 2002,@ 12am ET / 9pm PT and on Sunday October 27 @ 11am ET / 8am PT.
Nick's MSN.com Chat:
Nick will be chatting on MSN.com on Monday, October 28, @ 8:00 EST. So ladies, get your questions ready...
Get to Know Alicia Crawford,(Nick's Bassist)
TAMPA -- Alicia Crawford is constantly reminded that she's no longer a student at the University of South Florida and just another hard-working bass player on the Tampa Bay music scene.

"Hey, I'm watching TV right now and I'm on it," she blurts out with a laugh in the midst of a phone interview last week.

Crawford, 20, has caught a glimpse of the new video by Backstreet Boy-turned-solo-pop-idol Nick Carter on MTV's Total Request Live, better known as TRL. The reason for her exuberance is understandable: She's not only in Carter's hit Help Me video -- she's the bassist in his new band. In fact, she assembled it at his request only five months ago.

That was when, with a phone call out of the blue, Crawford's entire life took an improbable turn into the fast lane of the music biz, with the kind of twist that most local performers only get to dream about.

To fully appreciate Crawford's excitement and lingering disbelief, you should know she planned to be back studying music at USF this fall. Instead, she was with Carter on Monday on Regis and Kelly, and on the 1,000th episode of TRL Wednesday. Saturday -- three days before Carter's album Now or Never hits stores -- they'll perform at Guavaween, and they're set to play the Tonight show with Jay Leno Nov. 6.

You should also know that Crawford grew up surrounded by music, as the daughter of longtime local morning-drive personality Mason Dixon. As a surprise for her 12th birthday, Dixon arranged to have the Backstreet Boys -- then an unknown outfit of boy crooners -- sing her Happy Birthday. She became instant pals with Carter, a Tampa 14-year-old.

"I'd been playing bass a couple of months, and I was mostly into alternative music, which was still the big thing," Crawford says. "But I wound up hanging out with Nick and his mom at the radio station.

"He said, 'Call me, I'd love to come over sometime.' He played drums, and the whole summer, he could come over like every day in the garage of my parents' house. And we'd write music and play cover tunes. We ended up bonding, and fighting over who was better -- Nirvana or Smashing Pumpkins."

Eventually, Carter and the Backstreet Boys left for Europe, where they launched their careers. He and Crawford fell out of touch, though he once showed up incognito to watch her rock band, Sister Sara, in Ybor City in 1998. "He called to say he was in town, and I said, 'Great, come to the show,' " she says. "Nobody knew he was there but us."

Then Carter dropped out of sight again, immersed in the Backstreet Boys' record-setting Millennium tour and riding the teen-pop tidal wave.

Crawford, meanwhile, kept plugging away locally. After Sister Sara broke up in her senior year at Tampa Prep, she entered USF, and met a singer-songwriter-guitarist named Daniel Marshall. They formed the Christian-rock Daniel B. Marshall Band, which would twice open for national act Jars of Clay.

Things were starting to look up for Crawford's band as summer approached -- it had just finished an album of originals and had signed on to perform four weeks at a youth church camp for thousands of middle schoolers. She, Marshall and drummer Jason Leiter talked about pursuing a record deal.

But then, in June, Crawford answered her cell phone while she was driving in Georgia en route to a family visit in Memphis. "It's Nick, and he goes, 'Hey Alicia, I'm calling from Sweden,' and then my phone conks out," she recalls.

Crawford hadn't heard from Carter in three years, so she had no idea why he was calling. She pulled off the road until she could get a good connection. He told her he was working on a solo album, with this kicker: "He said, 'I want you to play bass for me, and I want you to put together a band for me."

The rest happened in a blur. Carter flew to Tampa to hear the band, which had added lead guitarist Andy Pardue, and gave his thumbs-up. He told them that his management would arrange to fly them to Los Angeles for a formal audition.

Still, Crawford and Marshall struggled with the decision. They called Carter's handlers and proposed a compromise: They could do two weeks of the summer camp commitment, then fly to L.A. The answer was a firm no. "They said, we need to hear you in two days, and you need to tell us in an hour what you're going to do," she says.

Crawford says she and Marshall prayed for guidance. They felt at peace with their decision to leave their Christian band, and summer camp organizers supported them. Then came weeks of rehearsals, the video shoot in August, and an overseas tour in September ("It was like A Hard Day's Night -- 200 girls chased us down the street in Spain.")

"I like to give people opportunities, just like my friend Alicia," Carter says during MTV's Making of the Video, adding how much fun he's having with his all-Tampa group.

Crawford's parents are "really excited, but they miss me -- I've always been a homebody," she says.

In her garage apartment at her parent's house, there's still a schedule of USF classes on the wall. "I wrote, 'No Going Back' on it with a big black marker," she says. "It's just to remind myself that I have to give this my all."


Monday, October 21, 2002:
Apparently I was given some misleading information about his current state, but the fact is Bob is ill right now. While the doctors are looking for the cause to his illness, Nick has come home to take care of his father and be with the family.
Bob is in good spirits right now, and Nick is doing everything he can to help his dad get back on the road to recovery as soon as possible. Please join me in including the Carters in your prayers so that everything can turn out for the best.
Nick has an incredidbly busy schedule leading up to the worldwide release of NOW OR NEVER. Follow Nick's every move on TV and in person right here.
Beginning on Tuesday, October 22, you can listen to the full length album on mtv.com. Check it out!!!!!
Nick has an incredidbly busy schedule leading up to the worldwide release of NOW OR NEVER. Follow Nick's every move on TV and in person right here.
Nick is to do an autograph signing in MN, on October 31 at 7pm.
For every Joey McIntyre and Jordan Knight, there is a D-Fuse.
You can now preview clips from Nick's upcoming solo record, Now or Never. Check it out! It's going to be an awesome cd.
NCR pulled through with a second place finish on the Hudson River. The waters were tricky and the visibility low, but Lee and Steve were able to stay in the front of the pack. Although there were a couple of mishaps, fuel switch being knocked off and with a hook at one of the turns, they finished a mere 30 seconds behind the leader, gaining speed in the last few laps.
Nick Carter, who has been building a career away from the Backstreet Boys, has formed a touring band of Tampa Bay area musicians for his new Jive Records project, NOW or NEVER.
It looks like Nick and his management have acquired the domain name NickCarter.com. It's currently pointing to n-carter.com, his record label web mini-site. We'll have to wait and see if the new domain will be used to host an all new official artist site.
Nick is going to appear on the JoJo Radio Show, KIIS 102.7, on September 17, 2002
Source: COSMOGIRL
We first met Nick Carter, the sweet, blonde, blue-eyed member of the Backstreet Boys, about seven years ago. He knocked the socks off of girls and boys alike worldwide while receiving innumerable praise and awards from the music industry. Now that he is a bit older, we find him digging a little deeper to show us a side weve never seen before. Nick Carter is getting up to his own things these days. Its his chance to break out and share a more personal side of himself while still doing the thing he loves - music. Making music that comes from his heart is something this 22 year-old has been yearning to do for quite a while. On his debut album, Now or Never, Nick brings a cathartic pen to paper to release what he says hes been holding inside for a long time. We begin to watch the layers unfurl on each track as we hear a young mans tales of life and love and growing up. His deepest thoughts and confusions, as well as his passions come across in the albums songs. Its a release of energy all sorts of energy that Ive held inside for God knows how long; Nick says, now I get the freedom to do everything that I, myself want to do. After fifteen years of performing, it is certainly his time to shine, but Nick is very modest about his success. Its not about shining, he says, its more so something that is helping me out as a person, and its kind of like therapy to me. Im able to free myself and express myself. He describes this move to do his own thing as a kid going off to college. He is breaking away from the family within the Backstreet Boys to spread his wings. This endeavor did not begin with a plan to make a solo record. It just so happens that Nick was messing around in the studio with the production team, KNS (Josh Schwartz and Brian Keirulf) and they came up with the song Do I Have To Cry For You. When the folks at Jive took a listen they were blown away, and so began the idea to make Now or Never. His work (and play) with KNS allowed him to experiment with writing for the first time. He co-wrote Do I Have To Cry For You as well as Girls In The USA and I Stand For You with them, and My Confession and Is It Saturday Yet with producers Gary Clark and Martin Brammer. Although he admits that he hasnt reached his potential as a writer, he is very excited about the prospect of exploring his artistic side During the making of this record, Nick took to Sweden to work with good friend and songwriter extraordinaire, Max Martin (best known for his work with Britney Spears, The Backstreet Boys and Celine Dion). Before the recording process began, the two got into deep discussions about life and what Nick was going through at the time. The songs Max came up with and produced with partner, Rami, were closely related to Nicks emotions so they were a perfect fit for the record. Now or Never has also been graced by the production skills of The Matrix, Steve Mac, Matthew Gerrard and Teddy Riley. Its a very personal album, Nick says of the songs chosen for it, every one has a connection of some sort. While Now or Never delves into some deep topics, it doesnt take itself way too seriously. It has the ability to transport you to the open road for a long drive while you sing every song at the top of your lungs. It reflects the freedom and passion that it is meant to reveal. Help Me, the first single from the album, was written by Matthew Gerrard and Michele Vice-Maslin and produced by Matthew Gerrard. Its a fun ditty that we can all relate to. In it Nick sings about his confusion and appreciation of life and relationships while he begs the questions we all ask ourselves everyday. The tender ballad Do I Have To Cry For You works its way into a passionate and raw plea for some middle ground in a less than normal relationship. Confession is a very sweet and pleasant sonic journey that expresses honest affection towards a new love. Its bouncy guitars and textured beats are candy to the ears. Nick truly loves American Rock, and its influence shows up on the guitar-driven anthem I Stand For You. You can tell he was reared on a healthy serving of Bruce Springsteen, Journey and Bon Jovi. His rebellious lyrics like, Im gonna have an attitude, are spoken with that sense of youthful invincibility and fervor. We see his compassionate side on the ballad Heart Without a Home (Ill Be There) while the song I Got You calls out the words they cant touch menow that Ive got you over a lush landscape of chimes, beats and subtle guitar wisps. Its not all work for Nick Carter though. When he is not recording or touring he likes to rest a lot. The ocean is another obsession of his. He enjoys taking his boat out and swimming or scuba diving as often as possible. He also makes it his priority to do his part to preserve the ocean, so much so that he began Nick Carters Ocean Campaign. He feels very strongly about the environment and intends to get more involved to protect it. As a result of his upbringing, he learned and experienced a lot more than the typical American teenager. This, he says, has made him much more caring when it comes to the world and the place we live in. He is more open now and would like to learn and share his experiences with as many people as possible
"It's hard to ignore the timing of Backstreet Boy Carter's solo debut in relation to labelmate (and boy-band foe) Justin Timberlake's. Unlike Timberlake, Carter sticks to fairly familar ground on the first offering from his imminent Now or Never collection. The track, which builds from a chunky, electro-funk intro into an infectious guitar-laced pop/rock groove, plays to the singer's vocal strengths. Carter is at his best when he's swaggering like the heartthrob he's grown up to become, and he maximizes that demeanor here. There are moments where he hints at a gruff maturity that he's clearly not ready to cut loose just yet. Though undeniably charming and fun, "Help me" won't make anyone forget his history, nor will it guarantee his future as a solo star. But it will easily keep his fans smiling, while leaving the rest of the pop world happily intrigued about what he's got up his sleeve for the future." -Larry Flick
Source: Billboard
Nick Carter Racing took their 5th checkered flag today, at the Corpus Christi Powerboat Shootout. Thus making them the APBA's 2002 National Champions in Super Vee. Way to go team!!!!!!!!!!!!!!
Fond du Lac, WI -- Mercury Racing powered 'Nick Carter Racing' won the Super Vee contest at the 'Cleveland Offshore Grand Prix, August 11. Driver Bob Carter and throttleman Lee Murray averaged 92.66 mph to win the event. The race was round five of the 2002 APBA Offshore Pro Series presented by Mercury Racing. Lake Erie was unusually calm for the two-day event. 'Media Master,' a 37 Outerlimits hull piloted by Matt Beck with Greg Quirk on the throttles, averaged 88.31. mph to place second. Both Nick Carter Racing and Media Master are powered by twin Mercury Racing Super Vee race engines coupled to Mercury Racing Dry-Sump Six Drives/Lab FinishedTM propellers.
Next up for NCR... Corpus Christi Powerboat Shootout, August 23-25.
Nick Carter will be at Big Freakin' Deal at the Seattle Seahwaks Stadium on August 19th. Tickets are on sale and cost between $10 and $150. He will be a guest host with Jackie, Bender and others. Scheduled to perform at the show are Shaggy, P.Diddy & the Bad Boy Family, Avril Lavigne, Michelle Branch, O-Town and Mario.
Source: www.backstreet.net
Aaron Carter Ready to Rumble with "Another Earthquake":
Most families spend the end of summer gearing up for school. The Carters are spending it preparing for the pop charts.
Seven weeks before Nick Carter's debut solo album is due, his younger brother Aaron will shake up the teen scene with Another Earthquake.
Due September 3, Aaron's fourth full-length will feature a collaboration with the Baha Men on "Summertime," the album's first single. Carter and the Baha Men shot a video for the song in the Bahamas last weekend, according to the singer's Jive Records spokesperson.
Another Earthquake also features production work from Rick Rock (Will Smith), Alex G ('NSYNC) and Shep & Kenny (Mandy Moore).
Nick Carter, who appeared on Aaron's last album, has been too busy with his own Now or Never (due October 22) to contribute this time around.
Aaron will promote Another Earthquake on the Rock, Rap and Retro Tour, which kicks off August 6 near Nashville. Up-and-coming pop artists Jump 5, No Secrets and Triple Image are opening on the trek.
Another Earthquake track list, according to Jive:
Rock, Rap and Retro Tour dates, according to Jive:
Source: mtv
Millions of fans around the world will tell you that Backstreet Boy Nick Carter wears many hats. He will show off his coolest cap, "APBA Offshore powerboat owner" on the upcoming television show "Total Access". The VH1 Nick Carter special will air on the misic television station on August 5, 9:00 p.m. EST. Get an insider view of Carter's boat "Nick Carter Racing" in action. See the sport's most famous team take on the 2002 season with great success. So far, "Nick Carter Racing", owned by Carter, leads the Super Vee Pro Series Points race for the APBA Offshore National Championship title.
The next challenge Carter's team will face will take place August 9-11 off the crystal shores of Cleveland, OH. APBA Offshore is putting the final touches on what promises to be a fantastic event. The port of Cleveland will again be the base for the racing actin, with the senic Cleveland skyline as the backdrop for the event.
While speculation has overshadowed the release of Nick Carters solo album. Jive Records is ready to release the album officially. Now or Never, will be released on October 8, 2002.